2008-07-05
G8 summit: Breathtaking venue with no protesters to spoil the view
Huge Japanese security operation to keep anti-globalisation activists far from leaders
It has been more than a year since Japan's then prime minister, Shinzo Abe, stood outside the Windsor Hotel – one of several candidate venues for this year's G8 summit – gazed at the ring doughnut-shaped lake below and, as one government official confided, "immediately fell in love".
Abe has gone, but Japan will be paying the price for his dewy-eyed dalliance with the pristine waters of Lake Toya in Japan's northernmost island of Hokkaido for some time.
Just as citizens of the developed world feel the pinch from the credit crunch and rising food and oil prices, their leaders are about to take centre stage in the G8's biggest ever summit. When the three-day meeting, centred on a communique whose wording has already been largely agreed, ends next Wednesday, Japanese taxpayers will face a bill for 60bn yen (£283m), dwarfing the estimated £1.3m Britain stumped up at Gleneagles three years ago.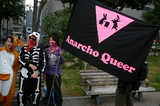 Usually at this time of the year, the area's hotels are brimming with tourists, but this week they are nowhere to be seen. Instead, its 10,000 residents are playing reluctant host to thousands of police officers drafted in to ensure the safety of Bush, Brown and co.
The 5,000-strong Hokkaido force has been joined by 16,000 colleagues from as far away as Okinawa, almost 2,000 miles to the south. Another 20,000 officers are on duty in Tokyo to avoid a repeat of the July 7 terrorist attacks in London in 2005, which were carried out as the G8 leaders met at Gleneagles.
The decision to invite an unprecedented number of leaders from non-G8 nations to one of the remotest parts of Japan is testing the country's reputation for logistical excellence to the limit. "The number of parties attending this year is unprecedented, which has admittedly complicated the arrangements," Tomohiko Taniguchi, a foreign ministry spokesman, told the Guardian. "But it's simply not fair to compare it with previous summits."
As a natural spectacle Lake Toya is breathtaking. Located 500 miles north of Tokyo, it is set against a stunning backdrop of an active volcano, hot springs and rolling countryside that brings to mind parts of rural England.
But for the next few days, the idyll will be shattered by one of the biggest security operations Japan has ever mounted. Aegis destroyers are on alert to shoot down incoming missiles, special units are on standby to deal with biochemical attacks and an Awacs reconnaissance aircraft will enforce a no-fly zone around the Windsor Hotel.
En route, the leaders will pass dozens of security cameras and surveillance antennas disguised as trees as they make the three-mile journey from the main gate to the hotel. For the past few days, police corteges have been circling at all hours while helicopters buzz overhead, drawing the ire of farmers whose cattle are unaccustomed to the noise.
In the town centre, posters warn residents to be on the alert for "suspicious-looking" visitors – by which they almost certainly mean anti-globalisation activists. Yet any violent eruption is far more likely to come from Mount Usu, a volcano overlooking Lake Toya that spewed ash over the area as recently as 2000. The 1,500 or so demonstrators expected to arrive in Hokkaido over the weekend will occupy campsites miles from the summit venue.
Around 40 independent journalists and activists have been detained at airports in Tokyo and Hokkaido in the past week, including 20 South Korean members of an international farmers' group who were on the verge of being deported yesterday after almost a day of questioning.
"Japan is using the G8 summit to limit visas without specific cause and has insisted on extremely detailed plans from its visitors, making entrance into the country difficult," the G8 Summit NGO Forum said. "This is robbing us of free speech and the exchange of ideas."
Westerners who manage to complete the journey to New Chitose airport in Hokkaido are told by plainclothed detectives to produce ID. "They look on us as dangerous freaks," said Mary Brookes, an organiser for the G8 Action Network, which plans low-key demonstrations next week. "You hear all the G8 rhetoric about democracy, but at the same time they are denying us freedom of speech and assembly, and we are being heavily policed. It makes you wonder what kind of democracy they are talking about."
Despite the huge security operation, Japan is touting Lake Toya as the "compact" summit in an attempt to banish memories of Okinawa 2000, an 80bn-yen orgy of excess during which the leaders lunched on Beluga caviar and foie gras while Jacques Chirac held court on his love of sumo wrestling. The lesson does not seem to have been learned: this week 60 top chefs will prepare the leaders' meals, although the menu and its cost are closely guarded secrets.
Toya's residents say their town as the safest in Japan. "Most of my customers are policemen, the tourist trade is virtually dead," said a shop owner. "I just want to get this summit over and done with so we can get back to normal."
Taniguchi of the foreign ministry said he understood local concerns but added: "If you think how much it would cost for the exposure Toyako [Lake Toya] will get in the international media over the next week, I would say the sacrifice is worth it."
While the ring of steel is firmly in place, this week Japanese officials were coming to terms with their first summit disappointment – the news that Carla Bruni, wife of the French president Nicolas Sarkozy, will not be accompanying him on the trip to the Far East. "As a Japanese citizen, I'm very disappointed that this very popular first lady won't be coming," said the government's top spokesman, Nobutaka Machimura.
Solar power and melted snow
In what is being touted as the greenest summit ever, the G8 leaders will be ferried about in fuel-cell buses and electric cars while the press corps use a state-of-the art media centre kept cool by 7,000 tonnes of snow retrieved during Hokkaido's notoriously bitter winter.
The melted snow will be fed into the centre's air-conditioning system and used to flush the building's "ultra low-flow" toilets.
Solar panels cover the roof, plants adorn the outer walls and every effort has been made to let in natural light and ventilation.
But for most of the time journalists will be kept at a comfortable distance from the people they are writing about. The international media centre, which can accommodate 4,000 people, is on a parking lot at the Rusutsu ski resort, 30-minutes from the summit venue.
Foreign delegations will be driven around in hybrid and electric cars that will be refuelled at temporary hydrogen and compressed natural gas stations, or by high-speed battery chargers.
The media centre's designers have clearly heeded the eco mantra of recycle and reduce but not, apparently, reuse: as soon as the last journalist has left the building, it will be demolished.
Japanese leaders promised to offset the summit's C0² emissions with carbon cuts elsewhere.
On Monday, the day of the Tanabata star festival, the owners of more than 70,000 shops, offices and tourist attractions will switch off their lights, look skywards and, it is hoped, discover a newfound reverence for their fragile environment.