2008-07-05
Protests begin in advance of G8 meetings
SAPPORO, Japan -- More than 1,000 people marched in northern Japan today to protest an upcoming summit of the top industrialized countries, and police arrested four protesters after a brief scuffle.
There were no reports in injuries.
Demonstrators gathered at a park in central Sapporo to demand that Group of Eight nations take urgent measures to stop global warming, grant indigenous people greater rights, combat world poverty and battle discrimination.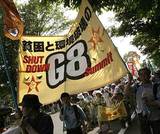 The G8 leaders -- from the United States, Japan, Russia, France, Britain, Canada, Italy and Germany -- begin a three-day summit on Monday.
The top issues are expected to be global warming and soaring oil and food prices.
Protesters also criticized globalization, which they blamed for deepening poverty in marginalized regions, fuelling the world dependence on fossil fuels and accelerating the damaging rise of world temperatures.
"Who gave the Group of Eight the right to rule the world?" asked Walden Bello of the activist group Focus on the Global South. "The G8 is a conspiracy of governments that have led the world to its most severe crisis in the last 50 years."
The rally then moved to the streets of Sapporo, where thousands of riot police lined the route, squeezing marchers into one lane. Tempers occasionally flared at bottlenecks, but the march was mostly peaceful.
One clash occurred when a protester driving a pickup truck fitted with speakers blaring rock music stopped at one point along the route. When police urged him to roll down his window, he refused and instead moved the truck backward in the crowd.
Police then smashed a truck window with a baton, pulled the driver out and took control of the vehicle. Hokkaido police said four people were arrested in the brief scuffle, but refused to release names or nationalities of those apprehended.
Authorities refused to give an immediate crowd estimate, but the protest appeared to have between 1,000 and 2,000 participants.
The Associated Press