2008-06-21
Hokkaido lets NGOs set up base near G-8 venue
SAPPORO--The Hokkaido government will let members of nongovernmental organizations, including outspoken protesters, to set up base at public camping grounds near the venue of the Group of Eight Toyako Summit.
Several thousand members of Japanese and international groups are expected to descend upon Hokkaido before and during the summit, scheduled for July 7 through 9 at the Lake Toyako resort. It is the first time for Japanese authorities hosting the event to give permission for NGOs to set up camp, officials said.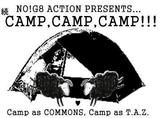 During discussions on the plan with the Foreign Ministry and Hokkaido police officials earlier this month, several local representatives raised concerns about the safety of having anti-summit activists within their communities.
"If any action violating the law occurs, we will take strict action," a police official said.
An official for the G8 Action Network, a Tokyo-based network of NGOs critical of the rich nations' forum, said the use of the campsites would "provide a place to stay and help prevent any confusion."
The official, who said the network is planning concerts and rallies in the area, also played down concerns about violence or law-breaking.
The campsites appointed for NGO use are: the Toyouracho Shinrin Koen camping ground in Toyoura, about 16 kilometers west of the summit venue; and the Orofure Hotto Piaza campsite in Sobetsu, about 18 km east of the venue.
The Toyoura campsite can hold about 1,000 people, while the Sobetsu campsite has a capacity of about 100.
Hokkaido's decision came after G8 Action Network applied for permission to use the facilities with the municipal governments of Toyoura and Sobetsu.
The two communities conferred with Hokkaido government officials and other authorities before deciding to give the green light, officials said.
The local governments will collect user fees while Hokkaido officials will serve as coordinators between the communities and the NGOs.
"We decided that it would not benefit the NGOs if their bases of activities were not close to the venue," a senior Hokkaido official said. "We discussed the matter with security authorities and reached the decision."
Sapporo-based Anti-G8 Summit Hokkaido (Ainu Mosir) Liaison, a league of about 12 activist groups, will set up camp on a privately owned meadow in the city of Date, about 20 km southeast of the G-8 venue.
The group said about 1,000 people will gather at the campsite, and events, such as demonstrations, will be staged.
"The groups gathering are all nonviolent organizations, and naturally, we will not cause any trouble for local residents," an official of the league said.
Providing access to campsites for anti-summit activists has become common at G-8 venues overseas. Last year, at the Heiligendamm Summit in Germany, local authorities permitted groups to use plots of open land within 10 km of the summit venue.(IHT/Asahi: June 21,2008)