2008-06-29
We condemn the Japanese government's human rights abuse and political oppression!
first draft of the statement
The Group of 8 Summit is scheduled to be held July 7-9 in Hokkaido, Japan.
Many people from all over the world are entering Japan to voice and show their oppostion to the G8. The leaders of these countries gather to make decisions that spread war, poverty, ecological destruction and discrimination throughout the world.
Therefore, it is the basic right of all the people in the world who have been oppressed and discriminated against to oppose the G8 summit and the power that it unfairly exerts on their lives.
However, the Japanese government are repressing this voice of protest with excessive force.
Many people have been detained at the airport and denied entry to Japan.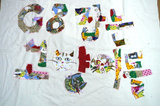 3 media activists from Hong Kong were held for 10 hours at the airport, and released after interrogation and search.
2 South Korean researchers Yi-jinkyung and Goh Byeong-gwon had to go through the same ordeal. They are going to make a presentation and participate in the debate at the counter G8 forum.
Other academics and researchers whose names were listed on the forum have also suffered long interrogation and search from Japanese immigration officials.
Moreover, the Japanese government is denying entry to some people and deporting them to their native countries.
A labor activist from South Korea was denied entry to Kyoto June 26 and had to return home.
Another South Korean activist, Kara had been held at the Haneda airport for 18 hours and finally denied entry.
He was forced to leave Japan, too.
The Japanese government did not provide Kara with proper food and sleeping place.
His rights to receive legal help were denied.
Over the telephone, he said he had been treated very poorly and badly by the Japanese immigration officials.
He had demanded that the government to give him proper food and sleeping place but was only to be ignored.
His human rights were seriously abused by Japanese authorities.
Kara entered Japan in March 2008 and attended some anti-G8 activities, which made him a target of Japan.
He did not committ any crime and was not associated with any type of violence.
He just used his freedom of press and association.
So we think that Japanese government's block his entry into Japan is an obvious human rights violation and politically motivated oppession.
Japanese government has been collecting finger prints and photographs of all foreigners who enter Japan.
Collection of finger prints is also human rights violation, because it makes everyone potential criminals.
Therefore, our demands to the Japanese government are
- Japanese government must release everyone who is being kept at the airport
- Japanese government must recognize the freedom of press and association
- Japanese government must stop collecting finger prints from foreigners
- Japanese government must stop hosting the G8 summit which spreads war, poverty, violence and ecological destruction throughout the world.
June 29, 2008
No G8 people in South Korea
http://blog.jinbo.net/noG8