2008-06-21
Police arrest Greenpeace activists over stolen whale meat
Police on Friday arrested two individuals connected with Greenpeace Japan on suspicion of stealing a box of whale meat that was later used to expose alleged embezzlement by members of a whaling vessel.
Prefectural police said Greenpeace member Junichi Sato, 31, of Tokyo and Toru Suzuki, 41, of Yokohama snatched a box containing about 20 kilograms of cured whale meat from the Seino Transportation Co. Aomori branch in mid-April. The parcel had been sent by a crew member of the Nisshin Maru research whaling ship from Tokyo to Hokkaido.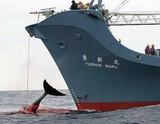 Police were not sure if Suzuki was a member of the environmental group, sources said.
Greenpeace officials acknowledged they intercepted the parcel without permission to expose the suspected illegal diversion of whale meat by crew members for personal gain.
They added that they initially had planned to return the box to the Seino depot, but decided to keep the meat after judging that it was "valid evidence of a serious act of embezzlement."
The group estimated the meat contained in the parcel was worth between 110,000 yen and 350,000 yen ($1,019 and $3,243). The box was one of 47 parcels sent to the homes of 12 crew members of the whaling ship that was tracked by Greenpeace.
A Greenpeace representative told The Asahi Shimbun on Wednesday that the group had intended to "raise issue with the situation surrounding research whaling, rather than single out the actions of individuals, and to stir debate over whether it was necessary to continue whaling at the expense of taxpayers' money."
"We believe we made some progress in helping the general public become aware of what research whaling is about," the official said.
Greenpeace filed a criminal complaint with Tokyo prosecutors on May 15, saying the crew members had engaged in embezzlement. The group held a news conference the same day to show the intercepted package and present the group's findings.
Prosecutors, however, have yet to act on the criminal complaint.
According to Seino, the box was one of four sent by the crew member. The meat in question was sent from Oi pier in Tokyo's Shinagawa Ward on April 15 to a personal home address in Hakodate, Hokkaido.
Seino filed a theft report to police on May 16.(IHT/Asahi: June 20,2008)