2008-06-19
Update about police repression in Japan. Latest statement by Anarchist Black Cross Osaka, Japan
We Denounce the Arrest of Squatter Activist and Comrade Tabi Rounin!
On the morning of June 5th, the squatter liberation activist Tabi Rounin was arrested via warrant claiming that he was a member of the "Black Helmets, a violent ultra-left group" and charged with "falsifying address registration" (the 'crime' of registering his driver's license at his parent's house), which led to his residence being searched three times and 21 items being taken by the police including his PC, cell phone, work resume, texts related to social movements and flyers. Tabi was taken to Nara prefecture's Koriyama police station and slapped with a 10 day extension of custody the next day. Special detectives in Nara prefecture assigned to the 'ultra-left' and Osaka city public order police came to investigate.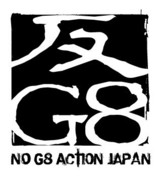 We only feel contempt for the idiocy and greed for budget money which motivates the public order police in their incessant tailing and eavesdropping over the past six months.
Their focus was absolutely on the movement against the G8 summit, foreign guests, Tabi Rounin's relationship with social and solidarity movements, and of course the naked aim of economically bankrupting Tabi Rounin, who had a job interview the next day. The material seized in the search of his apartment verifies all this.
Thanks to all those who supported Tabi, we were able to win his freedom on June 13th.. Allow us to thank you for your efforts and support.
However the twists and turns continue here.
Hearing the story of a worker who was brutally beaten in the investigation room of the Nishinari police department in Kamagasaki, hundreds of day laborers and squatting/homeless workers gathered for several days in response to the call of the Kamagasaki labor union in front of the Nishinari police station and begun an autonomous, physical struggle with many arrests in the late nights after the labor unions leave.
One of our number who went to visit an arrestee in jail was stopped by police and questioned, leading to our Free Worker offices here in Osaka to be watched by public order police. Just yesterday, June 18th, our offices were searched in relation to another G8 arrestee although no items were taken. We are preparing for second and third waves of repression against our members.
Please keep a focus on the events here as they transpire.
June 17th, 2008
Anarchist Black Cross
Osaka-shi Kita-ku Nakazakicho 3-3-1-401
Jiyuu Roudousha Rengou Tsuke
Post office bank account (Yuubin Furikae Kouza) 00200-5-38572 Name (Meigi) S-16 Kokushoku Kyuuenkai
Mail : abc-j@sanpal.co.jp