2008-06-09
New G8 POSTER from the Beehive Collective!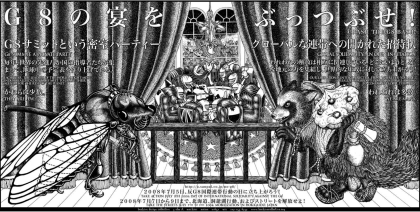 The Beehive Collective is excited to announce a new anti-copyright graphic
to help inspire worldwide solidarity actions during the G8 counter summit
in Hokkaido, Japan! It's for you to use and circulate from wherever you
are!
You can see a small version for viewing online here:
www.beehivecollective.org/special/g8japanesesmall.pdf and a larger one for
printing here: www.beehivecollective.org/special/g8japanese.pdf
if you'd
like to print them at the original size of 3 feet wide, email us and we
can send you a link to the file.
At present we're working on translating the text of the graphic into as
many languages as possible and posting them on our website for printing.
So far we have Portuguese, Spanish, and Japanese available and are hoping
to have French, Arabic, Swahili, Hindi, Italian, and Tamil in the coming
days – if you're capable of helping translate into any other languages
please get in touch!
An explanation of the imagery in the poster is on our website if you're
curious. We'd love to hear what you think!
miel y solidaridad,
the bees
EXPLANATION OF THE IMAGERY
Hidden high on a balcony, two characters are shown unveiling a debauchery of epic proportion and significance. With the curtains pulled back we witness the decadence of the closed door G8 gathering. The political leaders of the world's eight most industrialized countries are huddled up beneath a chandelier wreathed in surveillance technology and machine guns. The blind fiends have convened to feast on a cake the shape of the Earth. You'll notice an entire quarter of the spread is headed into the jaws of the greediest delegate! Ignored by the self-absorbed dinner party, a host of animal representatives from around the world has mounted a thunderous protest that rattles the window panes of the hall.
In the foreground, two creatures of special significance in Japanese folklore have managed to elude security and stand poised to crash the party. On the left a cicada, an insect symbolic of rebirth and resurgence, is beginning to draw its sword. On the right is a shape shifting raccoon dog called a tanuki, master of tricks and disguises, who is said to possess the unique ability to morph itself or its scrotum into any object. (No kidding! Check out THIS WEBPAGE for further awe and giggles). For this special occasion it's a cherry pie to smack squarely in the face of the power-hungry…