2008-06-08
Hokkaido Police G8 anti-terrorism measures: deputizing coke machines with scare posters, police checkpoints in Chitose Airport…
Posted by debito on June 8th, 2008
Handbook for Newcomers, Migrants, and Immigrants to Japan\Foreign Residents and Naturalized Citizens Association forming NGO
Hi Blog. With less than a month to go before the G8 Summit comes to Hokkaido, here's some information on how the public is being steeled for the event. I expect things are only going to get worse (like they did for the Sapporo leg of the 2002 World Cup), when walking while White in public is going to be cause for suspicion, with street corner ID checks by overtrained paranoid cops indulging in racial profiling.
Eric Johnston and I have already talked about the oversecuritization for both the Debito.org blog and for the Japan Times.
Here's the first evidence of that: Deputized coke machines… (and other places with this poster up; I peeled my copy off the wall at Odori Subway Station):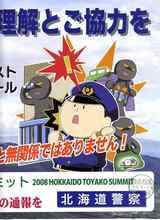 Translation:
Title: "PLEASE UNDERSTAND AND COOPERATE WITH PRECAUTIONARY POLICING"
Left-hand slogan: "For terrorists, the SUMMIT is the perfect opportunity to show their own existence."
Lower slogan in red: "JAPAN IS NOT UNCONNECTED TO TERRORISM!" (i.e. is no exception to being a target)
Bottom caption: "2008 HOKKAIDO TOYAKO SUMMIT: Notify us if you see anyone or anything suspicious. HOKKAIDO POLICE."
Poster found in Sapporo Odori Station on May 27, 2008. Coke machine photos taken June 3, 2008, in a quiet business district of Sapporo Chuo-ku.
As for the visuals, gotta love the soft fat squidgy likeable alert cop (unlike the evil lean gray terrorists). Good news is that the Japanese police have learned to make the terrorists not ethnic- or foreign-looking. That's a positive development, compared to the police's past poster handiwork.
More on the G8's effects on Hokkaido residents when information becomes apparent. Another Sapporo resident, Olaf Karthaus, just sent this to The Community on Saturday evening:
Quick update on police activities related to The Summit
1. increased traffic checks on highways: Beware of new Toyota Crowns in Hokkaido. I have heard that the Hokkaido police got new vehicles for the summit and they are using them now to increasingly check people who speed. So if you see a car that seemingly erratically changes speed, takes over cars, suddenly decelerates and let other cars takes them over, beware.
2. Car checks when on your way to the airport. One lane of the two-lane access street is blocked and police is waving cars down. Dunno how they determine who is going to be flagged. Random?
3. Gaijin card checks at New Chitose airport: Plainclothes policemen (but easy to spot if you look, since they have earphones). I was politely asked (in broken English) to show my passport because of increased security measures for the summit. He immediately and unasked flashed his badge (not stolen or fake? How can I know? Never seen the real thing before). Of course I didn't carry my passport, so he wanted to see my gaijin card. He put a pen to paper and asked if I mind if he takes down my name. I said yes, I do mind, and he complied. A quick check of the pronunciation of my name, and I was waved through. He told me that these measures will continue until the summit is over. All foreign-looking people will be checked. I still could catch my train (didn't leave for another few minutes), but I didn't feel to have enough time to ask him how they determine who is a foreigner and who is not. Also didn't ask what kind of measures I could take that would ensure that I am waved through quicker (since I have a couple of more trips down south before the summit. I can already imagine the chaos when a full load of foreigners happens to be on my flight. Then I will definitely miss my train!
4. By the way, I was in Yokohama during the Africa Summit two weeks ago. Our conference happened to be in the same complex (Pacifico) as the Summit. Extremely high security (found out that evening from the news that PM Fukuda and the Tenno were there, too), but no gaijincard check whatsoever. And I was going in and out for three consecutive days!
Anyway, the inconvenience is going to increase up here. :( Olaf
Debito in Sapporo