2008-05-12
NGOs tell Japan to show leadership at G8 summit
KYOTO — This year's Group of Eight summit in Toyako, Hokkaido, could end up a failure unless Japan demonstrates strong leadership and the political will to forge agreements among the members on issues ranging from climate change to African development, international NGOs warned Wednesday.
That was the mood among many attending the 2008 Civil G8 Dialogue, a two-day gathering of more than 160 international environmental, development and human rights NGOs that are pressing the G8 to honor past commitments and to engage society when formulating new ones.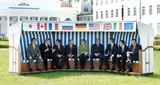 "There are now about 70 days left until the Hokkaido summit starts in early July, and I'm beginning to feel uneasy. The Japanese government has not come up with proposals on environmental issues, poverty reduction and development, or human rights that are global in scale," said Masako Hoshino, chairwoman of the 2008 Japan G8 Summit NGO Forum, which is sponsoring the Kyoto meetings.
"If things continue as they are, I'm afraid the Hokkaido summit will end in failure, with nothing but promises that won't be kept," she said.
Japan has promised to make climate change and aid to Africa two of the Hokkaido summit's main themes. But what, exactly, will come out of the summit remains unclear.
Many NGOs expect this year's summit to be less about moving forward than about confirming past commitments.
G8 summits are often sidetracked by a sudden political crisis that can drive more difficult, long-term problems off the main agenda. The recent food-shortage crisis is putting growing pressure on Japan, as the host country, to come up with solutions.
Some NGOs, however, pointed out that there is a connection between the food crisis and the more basic issues of development and the global economy.
"The global economy has reached the limits of growth. This is obvious when looking at the food crisis many countries are currently experiencing," said Juergen Maier, representing the German NGO Forum for Development and Environment.
"There is no way the developing world, or large parts of it, can repeat the development models of the G8 countries. We would need another three to four planets for that," Maier said.
Takehiko Nakao, a senior Finance Ministry official who is coordinating government policy on G8 matters on the sub-sherpa level, said one of the main areas his ministry would want the group to focus on is sustainable development that is more broadly based.
"For example, it's important that the income from high-commodity countries in Africa is allocated efficiently, and that it's used for investment in education and infrastructure," Nakao said.
By ERIC JOHNSTON