2008-04-15
MPD steps up security for G-8 summit
The Metropolitan Police Department is busily preparing to dispatch more than 1,000 riot police officers to Toyakocho, Hokkaido, where this year's Group of Eight summit meeting is scheduled to be held in less than three months.
In addition to summit facilities, important locations in Tokyo also might be targeted by international terrorists, radical antiglobalization movements and other such groups--something that Japan has never before experienced.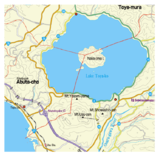 The MPD is stepping up its efforts to ensure security, such as asking for cooperation from local residents and former riot police officers.
This is the first time the MPD has asked for residents' cooperation with regard to security operations.
In the Shinjuku and Ikebukuro districts of Tokyo, residents associations and shop owners unions have formed organizations--boasting more than 3,000 members--to be on the alert for suspicious persons or objects around train stations and important facilities.
In recent years, international terrorists have often targeted public transportation and tourism spots. Event venues and department stores also have been threatened in some cases.
"We can't prevent terrorist actions unless we create a network across the whole of society to help nip such actions in the bud," one senior MPD official said.
Similar organizations had been launched within the jurisdiction of 19 police stations as of the end of March.
By July, it is expected that such organizations will exist within the jurisdiction of about 96 police stations, excepting islands belonging to Tokyo.
About half the nation's 3,000 MPD riot police will be dispatched to the G-8 summit venue.
As security in Tokyo could potentially be weakened as a result, temporary riot police teams--mainly comprising young police officers who usually work at koban police boxes--will be established.
However, these temporary riot police teams are somewhat short of experience, as they have only been utilized since February 2002, when U.S. President George W. Bush visited Japan.
Consequently, since late last year, the MPD has placed about 300 retired riot police officers in police stations to act as advisers.
Many of these retirees dealt with violent incidents such as protest rallies against the Japan-U.S. security treaty in 1959-60 and 1970.
These former riot police officers have been training younger colleagues in the basics of security operations, from how to use shields and batons, to drawing up formations to face angry mobs.
(Apr. 15, 2008)
[http://www.yomiuri.co.jp/dy/national/20080415TDY03102.htm]