2008-04-11
Japan: NPA hopes entry clause will limit any torch protest
The National Police Agency is hoping application of the hooligan provision of the immigration law will help prevent radical anti-China activists from entering the country as part of efforts to boost security for the Olympic torch relay in Nagano later this month, sources said Thursday.
Police officials decided to increase security in Nagano in light of the serious torch relay disruptions seen in Europe and the United States, according to the sources.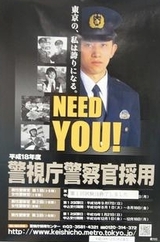 Nagano will be the only location in the country in which the Olympic torch relay will be held.
The NPA initially planned to mobilize about 500 Nagano prefectural police officers and about 1,000 private security guards along the torch relay course on April 26, according to the sources.
But the police have decided to boost security in anticipation of demonstrations by anti-China rightist groups with sound trucks and human rights groups in addition to disruption attempts by foreign activists.
The NPA is also considering having riot police officers accompany torchbearers during the torch relay, the sources said.
As for radical activists from Europe, the NPA is currently in negotiation with immigration authorities with a view to having the hooligan provision applied to prevent such activists from entering the nation.
The hooligan provision was added to the Immigration Control and Refugee Recognition law in 2001 and came into force in 2002 to keep hooligans out of the country during the 2002 World Cup soccer finals.
The provision states that immigration authorities can refuse entry to people who have been imprisoned in Japan or other countries or previously deported for having injured, assaulted, threatened or killed people or damaged buildings as part of efforts to disrupt international competitions and meetings. To bar such people from entry, officials must deem it likely they would engage in similar actions again.
As for the protection of torchbearers, the Beijing Olympics organizing committee has contacted the organizing committee of the torch relay in Nagano over the dispatch of two security officers from China.
Though the security guards will officially be designated members of the Beijing Olympic organizing committee, it is thought they will likely be members of China's Public Security Ministry.
During the torch relay in Paris on Monday, there was a skirmish between Chinese guards and human rights activists. If they take similar action in Japan, this could be deemed a violation of Japan's sovereignty. So, the NPA is trying to confirm whether the Beijing Olympic organizing committee intends to send such security guards to Japan, according to the sources.
Meanwhile, Nagano's mayor denied any possibility the scheduled parade might be rerouted.
(Apr. 11, 2008)
[http://www.yomiuri.co.jp/dy/national/20080411TDY01304.htm]