2008-03-10
U.S. Delegate Summit Lodging Preparations Underway
U.S. Delegate Summit Lodging Preparations Underwaytitle
Thursday, January 17, 2008
Next, the Hokkaido-Toyako G8 Summit which is half a year away. Noboribetsu, an onsen(hot spring) town next to Toyako, has been chosen to be where U.S. delegates will lodge during the summit and, preparations to usher in the delegates have begun.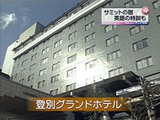 【Noboribetsu Grand Hotel President, Kengo Okita】
"Hot Springs are great!" is what they said.
The Noboribetsu Grand Hotel was chosen to be lodgings for the U.S. delegation for the duration of the G8 Summit. Last July, the U.S. Embassy contacted the hotel which Ambassador to Japan, Thomas Schieffer, previewed himself when he visited in July. The Noboribetsu Grand Hotel has a history of being lodgings for Emperor Showa. Also, you can still see evidence of GHQ confiscation after WWII.
【Noboribetsu Grand Hotel President, Kengo Okita】
"Yes, I knew about the story (of the confiscation the ambassador talked about). We even exchanged jokes on how it wouldn't be as long this time...hehe"
This was the 15th time that a member of the U.S. Government toured the hotel. The 300 tatami (459 square meter) banquet hall will be carpeted and turned into a communications operations room during the G8 Summit that the U.S. delegates can use to keep connected with their home country.
【Noboribetsu Grand Hotel President, Kengo Okita】
"At first, I thought it was strange that they chose to stay in Noboribetsu, even though it is the Toyako G8 Summit...However in the end, they took a real liking to the hotel and decided they would want to use it. I felt very privileged by their decision."
Even the hotel's gift shop is sharing in the mood and has already increased its supply of G8 Summit souvenirs.
【Shop Staff】"In all, there are 12 different kinds of souvenirs."
【Reporter】"Are these T-shirts? I notice there are many different colors.
【Mikuniya's Report】
"In order to improve their English ability, the staff here has been going to English lessons since last fall. This is were they have been studying."
Front desk reception staff and shop staff, which will have the most contact dealing with guests, have been studying extra hard in karaoke rooms.
【Sound・Conversations during English lesson】
The teacher, the managing director of the hotel, has years of experience working overseas and, created all the textbooks used in the lessons.
【Hotel Staff】"I'm looking forward to all of the English that will be around us. I just hope I'll be able to absorb some of it."
【Reporter】"Can you try and say that in English?
【Hotel Staff】"Eh?! I can't quite do that."
【Yutaka Fukushima, English Teacher and Hotel Managing Director】"He can't help but loose his words asking him something like that... In the end, my hope is that the hotel will be able to offer our guests with information and make their stay a good one."
Delegates from the U.S. are forecast to arrive around June to begin their preparations for the G8 Summit. However, it seems that Noboribetsu is already getting into the summit mood.
[http://www.hbc.co.jp/g8/eng/news/news20080117.html]