2008-03-25
Security Training Getting up to Speed for the Summit
Joint Security Training by the Police and Self-Defens Force
At Chitose City on the 17th, units from the Hokkaido Police Headquarters and the Japan Ground Self-Defense Force conducted a joint, security training. Under the premise that an armed foreign agent had infiltrated Hokkaido, a team from the Hokkaido Police Headquarters secured the safety of the injured and conducted a search for toxic substance, after which the chemical unit of the Japan Ground Self Defense Force cleaned up the area. The Hokkaido Police Headquarters plan to continue the training for the July Hokkaido Toyako Summit.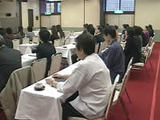 Hospitality Academy Held at Toyako Hot Springs
At Toyako hot springs, the Hokkaido Government held a "hospitality academy" to improve customer service of hotels and inns. On the 17th, a former airline cabin attendant gave a lecture on the kind of services desired by foreigners. At the July Hokkaido Toyako Summit, summit-related people from every country are expected to stay at Toyako hot springs. The tourist bureau plans to take the Summit as an opportunity to promote Toyako as a resort area.
Hokkaido Punishes the Senior Director of Toyako Summit Bureau
The government of Hokkaido punished the Senior Director of the Toyako Summit Bureau under the Governor's Policy Planning Department, with a pay cut for repeatedly wining and dining with subcontractors. According to the Hokkaido government, Yoshihiro Yamaya, Senior Director of the Summit Bureau, was penalized with a 10% salary reduction for 3 months. His removal from office as the Summit Bureau Senior Director is under consideration at next month's personnel shift.