2008-03-23
6,000 attend protest rally in Okinawa against crimes by U.S. soldiers
Around 6,000 people attended a rally Sunday in Okinawa amid heavy rain to protest against crimes committed by U.S. soldiers, demanding a revision of the Japan-U.S. Status of Forces Agreement and the curtailment of U.S. military bases.
The rally in the town of Chatan was organized by labor unions and women's civic groups to protest against the alleged rape of a 14-year-old girl in the town in February.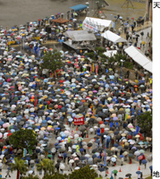 ''Let's express the wrath of Okinawa toward the governments of Japan and the United States,'' Tetsuei Tamayose, chief of the rally's executive committee, told the audience at a park in front of a baseball stadium in Chatan.
Okinawa Mayor Mitsuko Tomon said, ''Okinawa has been lodging protests against the governments of Japan and the United States as crimes and accidents have been repeated because of the presence of the military bases here.''
''Each time we protest, they have trampled upon our voices and heinous incidents have continued to be committed,'' she said.
Okinawa Gov. Hirokazu Nakaima and legislators from the Okinawa prefectural chapter of the ruling Liberal Democratic Party refrained from taking part in the rally out of consideration for the feelings of the student, who asked to be left alone when she dropped her rape complaint against a U.S. Marine.
The leaders of the executive organizing committee will fly to Tokyo around April 10 to press the government of Prime Minister Yasuo Fukuda, which has been reluctant about revising the SOFA.
At the rally, an Australian woman who said she had been raped by a U.S. soldier in Yokosuka, Kanagawa Prefecture, took the podium, demanding that sexual crimes by U.S. servicemen be eliminated.
The rally participants adopted a resolution stating, ''Improving the way in which the Status of Forces Agreement is applied would not be enough…a drastic revision of the agreement would ensure that our human rights are protected.''
The resolution also said, ''We have to demand strongly anew that the number of U.S. servicemen, including Marine Corps personnel, be reduced and their bases reduced and consolidated.'' Similar protest rallies were organized on the islands of Ishigaki and Miyako in Okinawa Prefecture with around 630 people participating, according to the committee. In Tokyo's Ginza district, about 100 people participated in a similar rally the same day.
The Okinawa police arrested Tyrone Hadnott, a staff sergeant at Camp Courtney, on suspicion of raping the girl. But Okinawa prosecutors did not indict Hadnott as the girl dropped the criminal complaint against him.
The U.S. military has kept Hadnott in custody at a base in Okinawa and is questioning him over the incident.
In 1995, the rape of a 12-year-old schoolgirl by three U.S. servicemen in Okinawa prompted local people to hold a massive rally, creating momentum that led to a bilateral agreement a year later for the relocation of the U.S. Marine Corps' Futemma Air Station within Okinawa.
NAHA, Japan, March 23 KYODO