2008-03-21
20,000 police officers to be deployed for security at G-8 summit
SAPPORO, March 21 (AP) - (Kyodo)—About 20,000 police officers, including those from outside the Hokkaido region, are to be deployed to ensure security at the Group of Eight summit to be held in the northernmost Japanese prefecture in July, the Hokkaido police said Friday.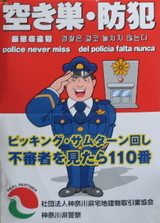 "The scale of the planned security will be unprecedented and it is important that we make meticulous preparations," Kiyotaka Takahashi, head of Hokkaido prefectural police, said in a speech at a meeting.
Dedicated security headquarters will be set up in three locations in Hokkaido -- the Lake Toya area, the venue of the summit, the New Chitose Airport, the main gateway to the island prefecture through which G-8 leaders are likely to travel, and the Hokkaido capital of Sapporo, according to the police.
Two other law enforcement centers are planned. One will conduct intelligence activities to avert terrorist attacks. The other one will manage the traffic of motorcades carrying leaders and delegates, the police added.