2008-01-22
Japan to boost G8 security after whale standoff: official
TOKYO (AFP) — Japan said Friday it would look at how to better guard against extremists at the upcoming Group of Eight summit after a standoff with militant anti-whaling activists in the Antarctic Ocean.
Japan late Thursday handed to Australia two activists who had boarded the whaling ship in a protest against Japan's annual hunt, which is opposed by most Western countries.
Chief Cabinet Secretary Nobutaka Machimura said that Japan "must closely review the case" of the two-day whaling showdown with the militants of the Sea Shepherd Conservation Society.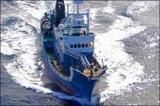 "Opinions have been raised as to whether the actions by the Japanese government against such very extreme non-governmental organisations were OK," said Machimura, the top government spokesman.
"In examining this case, we want to make sure that such dangerous acts will not be repeated, especially in light of the upcoming summit," he told a news conference.
In a nod to the passions over whaling, Machimura said: "We must be reminded, however, that whales are a unique theme."
Japan plans to kill some 1,000 whales in the Antarctic using a loophole that allows "lethal research" on the giant mammals. Japan makes no secret that the meat winds up on dinner plates, and accuses Westerners who object to the practice of cultural insensitivity.
Japan will host the annual summit of the Group of Eight – Britain, Canada, France, Germany, Italy, Japan, Russia and the United States – from July 7 to 9 at the mountainside hot-spring resort of Toyako.
The pristine location on the northern island of Hokkaido was chosen in part to highlight the fight against global warming but also to ensure security for what is set to be US President George W. Bush's last G8 summit.
G8 summits have become raucous affairs with mostly Western activists holding noisy demonstrations on a range of issues such as economic globalisation.
[http://afp.google.com/article/ALeqM5grby55KCZTlqFVRa44cF5wZ4nHZQ]