2007-10-30
Rome: Statements on the debate of an investigation panel
G8. MASTELLA: PROGRAMME ENVISAGES PANEL? NOT THAT I KNOW OF
(AGI) - Rome, Oct.30 - "Our position is well known: we have always opposed the setting up of an investigation panel, since the magistracy is already dealing with the issue", Justice Minister Clemente Mastella said in Parliament, explaining the UDEUR party's decision to vote against the proposal of setting up a panel investigating on the G8 troubles in Genoa in 2001.
Mastella claims that "the case should keep on being dealt with by the current sphere". When the reporters reminded him that the centre-left claims that such a panel was envisaged in the electoral programme, Mastella replied "I didn't read about it".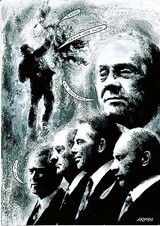 G8. DI PIETRO: THE LEFT WANTED HALF JUSTICE TO BE MADE
(AGI) - Rome, Oct.30 - "We asked for a panel that investigates thoroughly and painstakingly on the damages caused by those who sparked the riots, and also on police abuses. We are ready to vote for such a panel straight away. But if a panel investigates only on one aspect, that would be half justice", Infrastructure Minister Antonio Di Pietro said, on the sidelines of a meeting with road accident victims' relatives, explaining his party's (IdV) position as regards the institution of an investigation panel for the troubles that occurred at the G8 summit in Genoa in 2001. Indeed, his party turned down the proposal, and was strongly criticised by the far left parties. "I'm sorry - he added - that everything seems to resemble a sort of confrontation, but the far left parties of the coalition only want to investigate on the responsibilities of the police. But the entire world saw that some of the demonstrators were wrecking the city and attacking the police, and that a demonstrator died in the riots, as he was trying to throw a fire extinguisher against a law enforcement officer. After all this trouble, the police broke into the demonstrators' dwelling, raking up everyone, indistinctively. There are responsibilities on both sides".
G8. FERRERO: VOTE AGAINST PANEL IS OUTRAGEOUS
(AGI) - Rome, Oct.30 - "An outrageous decision, someone prefers to have everything shelved instead of shedding light on responsibilities", Social Solidarity Minister Paolo Ferrero said, commenting the Lower House turning down the proposal of setting up an investigation panel for the accidents at the G8 summit in Genoa in July 2001. "Those who voted against the proposal - he insisted - clearly want to keep everything hidden instead of finding out what happened. Only once light is shed and all responsibilities ascertained can we overcome the post-G8 situation".