2007-08-20
Japan, German police discuss security for G-8 summit in Hokkaido
Jorg Ziercke (L), president of Germany's Federal Criminal Police Office, shakes hands with Japan's National Police Agency head Iwao Uruma® at the agency in Tokyo on Aug. 13. Ziercke paid a courtesy call on Uruma after senior officials of the German police office and their Japanese counterparts discussed security measures for the Group of Eight summit to be held in July next year at the Lake Toya hot-spa resort area in Hokkaido. (Kyodo Aug. 13 TOKYO, Japan)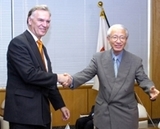 Joerg Ziercke meets japanese police chief.
Japan, German police cooperate on security for G-8 summit in Hokkaido
Aug 13 12:37 AM US/Eastern
Officials of Germany's Federal Criminal Police Office and Japan's National Police Agency met Monday in Tokyo and agreed to cooperate over the security of the Group of Eight summit to be held in July next year at the Lake Toya hot-spa resort area in Hokkaido, NPA officials said.
The Japanese and German police agreed to exchange information on the latest trends regarding anti-globalization organizations and other extremists groups in Europe, the officials said.
Japan's NPA and Hokkaido prefectural police officials in charge of summit security will be sent to Germany to step up the information exchanges, they said.
Germany hosted this year's G-8 summit in June in the Baltic resort of Heiligendamm. Protestors from anti-globalization and other groups staged rallies during the summit, with some turning violent and clashing with police causing many injuries.
Jorg Ziercke, president of the Bundeskriminalamt, or BKA, and other senior officials plan to visit Tuesday the venue of the G-8 summit, Windsor Hotel Toya Resort & Spa, which stands atop a 600-meter mountain overlooking Lake Toya.
Senior officials of the NPA Security Bureau had discussions with officials Monday about the location of the venue and their security plans, as well as how to best guard the G-8 leaders against any intrusions by such anti-globalization groups.
The Japan-hosted summit, to be held on July 7-9 next year, will be attended by leaders from Britain, Canada, France, Germany, Italy, Japan, Russia and the United States.
After the meeting, Ziercke had talks with NPA Commissioner General Iwao Uruma.