2007-10-03
Collective Radar G8 2007: Help Build the Action Map!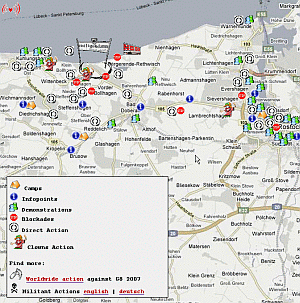 Resistance to the G8 in and around Heiligendamm was as massive as it was multiple and diverse.
To show this, the facilities to build a collective action map depicting all of the actions that happened, are being put together. The map will have icons that indicate where what kind of action took place. The individual icons will be linked to texts, films or pictures about the actions. You will also be able to view a brief summary while scrolling with your mouse.
View the existing map: www.gipfelsoli.org/rcms_repos/maps/action.html
The map needs your input! Whether you know about a spontaneous demo that happened, a blockade of any kind, a visit to the fence, a swim in the sea or an outing to the forest, help complete the map by adding your stories (where, when, what).
The map will be in English only. So please help find comments on the event in English or translate existing texts.
To add information about actions, email g8-2007@riseup.net or use the
Web-Interface: gipfelsoli.org/start/contact
Please note:
All information published on criminalized actions might potentially incriminate individuals. So please be careful with your comments.
July 2007
[International Press Group MediaG8way | Gipfelsoli Infogruppe | Dissent Netherlands | six hills berlin]