2009-04-05
Rifts, riots spoil NATO party
FROM WIRE REPORTS The New York Times, The Associated Press
STRASBOURG, France – NATO's 60th anniversary summit was supposed to symbolize the unity of Europe, but the celebration was marred by division over the Obama administration's intensified war in Afghanistan and fierce rioting outside the meeting hall.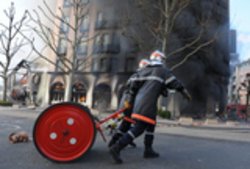 And although officials finally came to an agreement on a new secretary-general – Danish Prime Minister Anders Fogh Rasmussen – the deal came only after days of hard negotiations to overcome Turkey's opposition.
The move risked angering Muslims around the world because Fogh Rasmussen backed a Danish newspaper's right to publish cartoons of the Prophet Muhammad in 2005. Fogh Rasmussen, 56, also has said he does not think Turkey, NATO's only Muslim country, will ever become a full member of the European Union.
As expected, European allies agreed to provide up to 5,000 new troops for Afghanistan, the White House said Saturday. But the allies held their ground on a central disagreement, offering only military trainers and extra security forces for upcoming elections.
President Barack Obama is raising the number of U.S. troops this year to about 68,000 from 38,000, which will significantly Americanize the war. The new strategy, which the Europeans have pressed for, is aimed at creating larger and better-trained Afghan security forces that can defend the state and allow the West to leave.
So the new training forces are important, Obama emphasized in a news conference after the meeting.
European nations also promised about $100 million more to support the training mission, with $57 million to come from Germany.
On Saturday morning, NATO leaders walked across a sweeping bridge over the Rhine between Germany and France to symbolize Europe's unity, but later in the day, masked protesters were battling police officers from both countries on another bridge nearby.
The French police lost control of the area near the bridge before moving in with tear gas and dispersing protesters. By then, a disused border post, a tourist information office and a hotel were engulfed in flames after demonstrators, clad in black, smashed their way into the buildings and started fires.
The protesters were a mix of anti-globalization and anti-military activists. French authorities said that 10,000 demonstrators assembled on the French side of the frontier and 7,000 on the German side. Protest organizers said the total was about 30,000.
According to French police, 1,000 violent agitators attacked security forces, leaving 12 protesters slightly injured. There was no information on the number of arrests.
Reiner Braun, a protest organizer, said that a peaceful demonstration had been hijacked by a small group of anarchist troublemakers, known as the Black Bloc. But he also condemned police tactics.
"I do not accept the behavior of the Black Bloc," Braun said. "But it was pure provocation from the police. They and the Black Bloc are like brother and sister; they need each other."
Before the arrival of world leaders, France deployed up to 10,000 police officers and gendarmes.
NATO did not give details about how it won Turkish approval for Fogh Rasmussen's appointment. It did say it agreed to address various Turkish "concerns."
Turkey said its requests included the closure of a Kurdish satellite television broadcaster based in Denmark; the establishment of contacts between NATO and Islamic countries; appointment of a Turk as an aide to Fogh Rasmussen; and senior NATO command positions for Turkish generals.
Fogh Rasmussen denied making undue concessions to the Turks, and pledged to improve relations between NATO and the Muslim world.
Obama was said to be important to the Turkish decision to give in, meeting with President Abdullah Gul of Turkey and Fogh Rasmussen.
Fogh Rasmussen is a center-right politician who has provided strong support for the U.S. war in Iraq and NATO's operation in Afghanistan, and whose government has sent fighting troops there, as well as to Bosnia and Kosovo.
Saturday's meeting began with niceties, with President Nicolas Sarkozy of France confirming his country's return to full membership in NATO, and with Obama welcoming Albania and Croatia to the alliance. Obama added that he expected Macedonia to join soon and that NATO's door remained open to other countries.
But he made no specific mention of Georgia and Ukraine. At last year's NATO meeting in Romania, President George W. Bush pushed hard for membership for Georgia and Ukraine, but he was rebuffed by European leaders. Instead, NATO promised that both countries would eventually join NATO, but did not specify a timetable.
A few months later, the Russian army occupied the Georgian regions of South Ossetia and Abkhazia, a move that most foreign analysts interpreted as a death knell for Georgia's NATO membership, since the European members of the alliance are loath to get into a fight with Russia.
The New York Times,
The Associated Press
Source: http://www.dallasnews.com/sharedcontent/dws/news/world/stories/DN-nato_05int.ART0.State.Edition1.4aaf93c.html