2009-03-24
'Concrete' terror threat for NATO summit
STRASBOURG, France, March 24 (UPI) -- The 60th anniversary of NATO, celebrated at a summit in France and Germany next month, will see tight security because of terror threats.
Police providing security for the NATO summit in Strasbourg, France, and the two German cities of Kehl and Baden-Baden on April 3-4 said there was a "concrete terror threat," German daily Bild reports. Radical Islamists see in the North Atlantic Treaty Organization a key enemy, police said.
Roughly 15,000 police will be in the area to secure anti-NATO demonstrations observers fear could turn violent.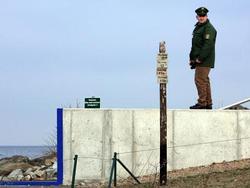 The French-German border will see passport checks once again as both governments have agreed to withdraw the Schengen agreement for the duration of the summit.
Jet fighters and helicopters will secure the airspace, with boats patrolling the Rhine River, which will be closed to commercial shipping on April 4. German special forces and snipers are due to protect NATO leaders meeting for a working dinner in downtown Baden-Baden.
U.S. President Barack Obama, who will travel to the summit flanked by his Secret Service security team, is due to meet with a host of Western leaders, including French President Nicolas Sarkozy and German Chancellor Angela Merkel.
The leaders are to discuss a range of issues, including the war in Afghanistan, NATO's relations with Russia and the potential of adding new members. The summit will also make official France's return into the alliance as a full member.
Source: http://www.metimes.com/Security/2009/03/24/concrete_terror_threat_for_nato_summit/a66e/