2009-03-21
Anti-NATO protesters arrested near HQ
Belgian police arrest activists who tried to enter NATO headquarters during a demonstration in Brussels.

Belgian police have arrested more than 150 protesters who were trying to enter the North Atlantic Treaty Organization's headquarters in Brussels.
The protesters, who were attending the 'NATO Game Over' demonstration, say the alliance endangers their security.
They intended to enter the huge NATO building to symbolically seal gates, borders and doors.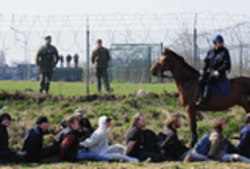 Hundreds of demonstrators, holding banners reading "NO TO NATO", responded to the group's call to stage protests demanding the abolition of the 26 country military alliance.
They also demanded the alliance to pull out of Afghanistan and relocate hundreds of American nuclear weapons from Europe to the United States.
"It's endangering our security and therefore we want to have an end to NATO," said Hans Lammerant, NATO Game Over's spokesman.
The protest came ahead of NATO's 60th anniversary summit, slated to be held in Germany and France on April 3-4.
Source: http://www.presstv.ir/detail.aspx?id=89291&sectionid=351020605