2009-01-02
France: More cars burning, more police
President Nicolas Sarkozy vowed to crack down on France's car burning after more than 1,100 vehicles went up in flames overnight on New Year's Eve.
Sarkozy said he had asked authorities to be "uncompromising" with vehicle arsonists and said those caught burning other people's cars should lose their own licences until the damage had been paid for.
"There is no reason why honest people should have to pay the consequences of the behaviour of delinquents," he said in an address to emergency service staff who worked over the evening of December 31.
Car burnings are regular occurrences in France, where some 36,700 were recorded in the first 11 months of 2008, according to interior ministry figures.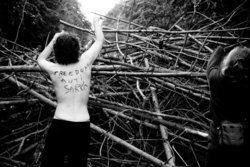 But registering the New Year's Eve total has become something of a tradition since rows of blazing vehicles became one of the most potent images of the violent rioting that shook many of France's poor suburbs in 2005.
Authorities said 1,147 cars were burned on December 31, up from 878 last year, with a regional breakdown showing the Seine-Saint-Denis region near Paris the most heavily affected.
With riots in Athens heightening worries that the economic crisis will spark a resurgence of the violence seen in the run-down "banlieues", 35,000 police were mobilised on New Year's Eve, some 7,000 more than last year.
Officials were also on guard against possible attacks after five sticks of dynamite were left in a Paris department store just before Christmas by a so-far unidentified group demanding a withdrawal of French troops from Afghanistan.
Police made 288 arrests, compared with 259 last year, and four officers were slightly hurt. The interior ministry said that overall, the night had passed off calmly with no significant incidents.
"The very rare clashes that occurred were brief and sporadic," the ministry said in a statement.
Source: http://tvnz.co.nz/world-news/sarkozy-tackles-frances-car-burners-2432556