2008-11-25
Flyer by french solidarity group for demonstrations
Don't loose your head, offer resistance!
On a demonstration
Stay in groups. Found affinity groups of two or three people arriving and leaving together.
Stay mobile and keep an eye on other demonstrants as well as on your sourrounding.
Take care of ambitions of the pigs to infiltrate the group. Circle them, isolate them and show them to other demonstrants.
You have the right to cover up your face and this is highly recommended because the police likes to take pictures and films.
Teargas is used very often. Don't panic, just save your nose and mouth with some piece of cloth soaked in lemonwater and use eye drops (saltwater dilution). In case of irritated skin neither make it wet nor use creams.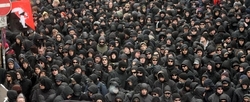 Should any demonstrant be arrested there is the possibility to resist that. If it happens anyway encourage the person to scream her/his name loudly and refer it to the legal aid.
In case of being arrested yourself shout out your name to other demonstrants and keep calm.
Apart from that it's better to learn the number of the legal aid by heart than having it written on your arm because this can be seen as intention in case of your arrest.
Taken into police custody
Your allowed to have a translation. First they want to proof your identity (max. 4 hours). Taken into police custody can be extended up to 48 hours. You have the right to consult a doctor and a lawyer. You are only forced to give them your name and adress by law, to subscribe the protocol is not needed.
Refuse DNA-taking despite threat.
Refuse tp appear before the court immediatelly so that you have more time to prepair your defence.
—
Verliert nicht den Kopf, leistet Widerstand!
Bei der Demo
In Gruppen bleiben. Kleine 2-er bzw. 3-er Bezugsgruppen bilden und zusammen kommen/gehen.
Beweglich und aufmerksam gegenüber der Umgebung und anderen Demoteilnehmer_innen bleiben, auf Infiltrationsversuche seitens der Polizei (Zivilbullen) aufpassen. Umkreist sie, isoliert sie und signalisiert dieses zu den anderen Demonstrant_innen.
Du hast das Recht dich zu vermummen, und das wird auch empfohlen, denn die Polizei filmt und fotografiert gerne.
Tränengas wird oft benutzt. Keine Panik, einfach Nase und Mund mit einem in Zitronenwasser getränkten Tuch schützen und Augentropfen (Salzlösung) benützen. Im Falle eines Hautreizes, weder nass machen noch einschmieren.
Im Falle der Verhaftung eines_einer Demonstranten_Demonstrantin, besteht die Möglichkeit sich dagegen zu wehren. Wenn es trotzdem zu einer Verhaftung kommt, die betroffene Person auffordern, den Namen zu schreien und diesen der Rechtshilfe weiterleiten.
Wenn mensch selbst verhaftet wird, Namen den anderen Demoteilnehmer_innen zurufen, ruhig bleiben. Außerdem ist besser die Nummer von der Rechtshilfe im Kopf zu haben, als diese auf den Armen aufzuschreiben, da dies im Falle einer Verhaftung als Vorsatz gelten kann.
In Polizeigewahrsam
Du darfst eine Übersetzung haben. In Polizeigewahrsam findet zunächst eine Identitätsfeststellung statt (max. 4h). Der Gewahrsam kann bis zu 48 Stunden verlängert werden. Das Recht auf einen_eine Arzt_Ärztin und einen_eine Anwalt_Anwältin bestehen. Das Gesetz verpflichtet dazu, einzig Namen und Adresse anzugeben, das Protokoll zu unterschreiben ist nicht verpflichtend.
Verweigert DNA-Entnahme, trotz der Drohungen.
Verweigert das Sofort-Erscheinen bei Gericht um die Verteidigung vorzubereiten.
—
Ne pètez plus les plombs, révoltez-vous!
En manif
Rester groupé-e-s. Former de petits groupes affinitaires, binômes, trinômes. Venir et repartir en bande.
Rester mobile et attentif-ve-s à l'environnement et à vos arrières, attention aux tentatives d'infiltration des flics (RG) dans la manif.
Les encercler, les isoler et les signaler aux autres manifestant-e-s.
Tu as le droit de te masquer, et c'est une pratique conseillée. Les flics aiment bien nous filmer et nous prendre en photo.
L'utilisation des gaz lacrymogènes est fréquente. Pas de panique, lors d'un gazage se protèger la bouche et le nez avec un foulard imbibé d'eau citronnée, se mettre des gouttes de sérum physiologique dans les yeux.
En cas d'irritation de la peau, ne pas mouiller ni mettre de gras.
En cas d'arrestation d'un-e manifestant-e, il est possible de s'y opposer. Si rien ne peut être tenté, demander à la personne de crier son nom et donner les infos à la commission anti-répression.
Si soi-même on se fait arrêter, crier son nom aux témoins, rester calme et poli-e en toutes circonstances, pour ne pas charger son dossier d'un « outrage et rébellion ».
Avoir le numéro de l'avocat-e du groupe anti-répression en tête plutôt que sur le bras (en cas d'arrestation cela pourrait être considéré comme préméditation).
En garde à vue
Une garde à vue fait suite à un contrôle d'identité (4h maximum), et peut être prolongée 48h maximum. Insister pour rencontrer un-e médecin et un-e avocat-e. La loi n'oblige qu'à donner son nom et son adresse, signer le procès-verbal n'est pas obligatoire.
Refuser le prélèvement ADN, malgré les menaces.
Refuser la comparution immédiate pour préparer sa défense. (sauf si possibilité, à voir avec l'avocat-e).
Source: email