2008-11-07
Anti-Militarist Gathering – 29th & 30th November – 60 The Pleasance, Edinburgh
GATHERING OF REFLECTION AND PLANNING FOR A NEW ANTI-MILITARIST MOVEMENT.
It should be clear by now that, whatever success the left and the peace movements have had, we are at the moment utterly incapable of doing more than generating good media coverage. It is time that we realized our collective strength. It is time that we looked beyond the ethics of banner waving to what we can achieve through direct action. In short, it's time to move from anti-war protesting to anti-war resistance.
This movement has already begun. Smash EDO have taken its fight to the streets of Brighton, army recruitment centres across the UK get their windows smashed and daubed in graffiti on a regular basis and recently the rooftop of Ratheon Systems in Bristol was occupied, Nuclear bases at Faslane and Aldermaston have been besieged by blockaders, some examples of a huge number of ongoing campaigns and battles to shut arms factories, suppliers and military bases.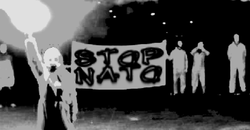 This is a call out to mobilise against militarism in the UK. In November 2009 the NATO Parliamentary Assembly will meet in the Edinburgh International Conference Centre for five days of talks. Over 600 delegates from member states will gather to scheme and plot the extension of western imperialism through the so-called 'North Atlantic Treaty Organisation'.
This is a call out inviting you to the Anti-Militarist Gathering, taking place on Saturday and Sunday 29th & 30th November 2008, in The Societies Centre, 60 The Pleasance, Edinburgh. The gathering will take a critical look at the current state of the anti-militarist/anti-war/peace movement in the UK, celebrating the movement's successes and analysing its shortcomings, as well as providing a forum to discuss how we can build an anti-militarist movement capable of resisting and stopping current and future militarism and aggressive state violence. The gathering will also aim to bring together a broad-based network of groups and individuals to begin mobilising for the NATO Parliamentary Assembly that will take place 13th-17th November 2009.
Join us in Edinburgh 29th & 30th November 2008 for a weekend of reflection and planning for a new anti-militarist movement.
Crash space and kids space will be provided and all venues are wheelchair accessible.
Source: http://edinantimil.livejournal.com/
Images:

/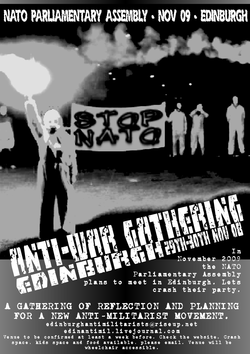 /