2008-10-23
Swedes disarm Iraq-bound weapons
20 Carl Gustaf antitank launchers and other armaments were damaged Thursday as Swedish peace activists broke into plants belonging to BAE Systems and Saab in Sweden. In two simultaneous non-violent actions, four activists hammered on arms bound for export to among others the occupation of Iraq.
Two activists entered the Saab Bofors Dynamics production unit in Eskilstuna, near Stockholm, Sweden, at 00.30 am on Thursday morning. They hammered and scratched 20 Carl Gustaf launchers, one of the most widespread weapons of the world, before they alerted police of their presence inside the supposedly high-security establishment.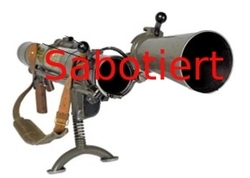 Simultaneously, two other activists entered the BAE Systems plant in Karlskoga, Sweden, in the Western part of the Nordic country. At 2.36 am, they forced open a door to an assembly building and proceeded to damage parts for the Howitzer 77 and the Archer, a high-precision grenade used in the illegal war and occupation of Iraq.
"When your government supports an illegal war and sells arms to dictatorships, it's time for ordinary citizens like us to take action," said Annika Spalde, a deacon in the Swedish church and the fifth member of the group. On Thursday noon she held a press conference in Karlskoga and was also arrested upon attempting to enter arms manufacturing facilities there which previously belonged to famous Swedish Bofors.
The action is the first disarmament campain in the 21st century in Sweden. When the American led invasion of Iraq started Swedish arms export increased by 88 percent and has continued to rise. The Swedish government violates it's own policy of peace and neutrality by supplying war waging countries with arms.
The activists left behind holes in the security fence with welcoming signs "The door is opened- you' re free to start disarming."
The Swedish peace group Ofog works with non violent direct action against militarism.
For images, video and text resources, as well as links to Swedish news media, see www.avrusta.se and www.ofog.org
Spokesperson for Ofog- Maja Backlund,
telephone +46-733-815361
mail info@ofog.org
Source: email