2008-09-14
Call,Invitation to join Anti-NATO prep-Conference Stuttgart (de) 4-5th Oct.'08.
International Preparatory Conference for the Anti-NATO activities related to the 60th anniversary of NATO
Stuttgart, Germany
We will discuss NATO's 60th anniversary in May 2009, which will be celebrated with an official summit in Strasbourg and Kehl.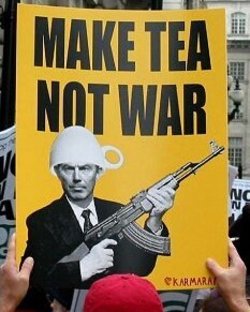 We believe:
Sixty years of NATO are enough. NATO is the main driving force behind global war. NATO stands for the missile defence system, military bases around the world, nuclear weapons and military interventions and expenditure. NATO is a rival to the UN and the system of international law. NATO is intertwined with the European security and defence system. But NATO is not all-powerful, indeed it is under extreme pressure right now in Afghanistan.
At our conference we want to discuss together with the international peace movements and other social movements, activities for 60th anniversary, to build huge common actions. We want to spread our information to engage more initiatives in a broad coalition for this important historical moment.
With the conference and its preparations in different countries, we want to start with a democratic process of collaboration.
We want to build broad international coalition including different social movements, environmental and human rights movements from all over the world to show our (different) reasons to be against NATO.
Our dream is: Under a common umbrella, imaginative actions like counter summits, manifestations, camps, festivals and so on should be worked out.
We started our preparations at the international Afghanistan conference in Hanover on June 8/9th. There we founded an international Network against the NATO anniversary with organisations from 11 countries, and established a small preparatory committee, which prepared the invitation to the conference in Stuttgart.
Member of this open preparation committee include: Arielle Denis (Le Mouvement de la Paix, France), Reiner Braun (IALANA, speaker of Cooperation for Peace, Germany), Chris Nineham (Stop the War Coalition, UK), Tobias Pflüger (MEP, IMI, Germany), Thomas Magnusson (International Peace Bureau, Sweden), Sotiris Kontogiannis (Stop the War Coalition, Greece), Elaheh Rostami Povey (Stop the War Coalition, UK/Iran), Peter Strutynski (Federal Committee Peace Council, Germany)
Meanwhile there have been national preparatory conferences and other events, for example in France, Germany, Belgium, Turkey, USA, etc.
We will meet up for a special Anti NATO Forum in Malmö at the European Social Forum (ESF) 2008 September 17-21. www.esf2008.org
For more information please contact Arielle Denis arielle.denis@mvtpaix.org
Now we want to invite you to the central preparatory conference where we plan to join all our efforts, our different actions and activities.
International Peace Bureau (IPB)
International Network of Engineers and Scientists for Global Responsibility (INES)
International Association of Lawyers against Nuclear Arms (IALANA Europe)
war resisters' international
International Physicians for the Prevention of Nuclear War (IPPNW), Germany
Le Mouvement de la Paix, France
Stop the War Coalition, Great Britain
Stop the War Coalition, Greece
Cooperation for Peace, Germany
Federal Committee Peace Council, Germany
Source: http://openesf.net/projects/asm/blog/