2008-06-19
President Sarkozy marches France back to Nato with military shake-up
Four decades after President de Gaulle broke with the Nato command President Sarkozy announced France's return to the heart of the alliance — with conditions on EU defence that may unsettle Britain.
Setting out a big shift in doctrine and spending yesterday, France's most pro-Atlanticist President said that nothing prevented a return to the integrated command from which de Gaulle withdrew in 1966 in dispute with the United States. "In Europe, nearly all our partners are members of the alliance. They do not understand why we persist in standing apart," he said.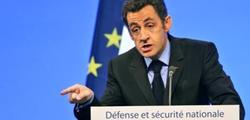 The return to Nato would come as France cuts 50,000 military posts to reduce forces to 225,000 personnel, while diverting funds to new equipment and expanded intelligence systems.
Mr Sarkozy insisted, however, that French re-entry must be matched by progress towards a European defence system that would be complementary to the Nato structure. "In my mind, there can only be progress in integrating France within Nato if there is prior progress in European defence," he told 3,000 military personnel in Paris.
France and Britain, Europe's big military powers, have been working since 1998 towards a European pillar within the US-led alliance. They have mainly advanced on sharing equipment and weapons while Britain has resisted French enthusiasm for a separate command for EU operations outside Nato's military headquarters. Mr Sarkozy insisted that he will make EU defence a priority when France takes over the rotating presidency next month, despite Ireland's rejection of the Lisbon treaty last week. The treaty includes measures for an EU defence policy that aims to create a 60,000-strong EU force for long-distance intervention.
"Whatever happens to the Lisbon treaty, I will not change my mind," said Mr Sarkozy, who postponed his defence review until after the Irish referendum. "I want the alliance to be more European, and how can we have a more European alliance without France?"
The President said that there was an urgent need to raise and co-ordinate Europe's modest spending on a defence industry that is a sixth the size of that in the US. He also stipulated that France's nuclear arsenal would remain under its national command, and French troops would be deployed under Nato command only with the approval of Paris.
A decade ago a plan by President Chirac to take France back into the military structure foundered when he demanded that a French officer take charge of the Naples-based Southern Command.
Mr Sarkozy has adopted a less cautious approach. He attacked his detractors, saying that Nato was no threat. "Try telling the [EU states] that lived under the [Soviet] Warsaw Pact that Nato is a threat to their freedom," he said.
However, he came under fire from the Socialist Opposition and part of his own Gaullist party. They accused him of selling out the independence to which France has clung despite its frequent participation in Nato operations. Le Monde newspaper said that by signing up to full membership, he had abandoned France's dream of "making Europe a major and autonomous player in its own defence".
France's new doctrine, forged in the first review since 1994, seeks to prepare for a world in which conventional threats are less imminent than global risks such as terrorism, cyberwarfare and epidemics.
"From now on France's defence is as much at stake within France as thousands of kilometres away," Mr Sarkozy said, taking a view of "homeland security" that is novel for France. The planned closure of dozens of military bases and heavy cuts in personnel are unpopular in affected regions but Mr Sarkozy said that the military guaranteed security, not the local economy.
The army is set for a 17 per cent decline in personnel, the air force 24 per cent and 11 per cent for the navy. Several bases will be closed in Africa, where France has long maintained garrisons in former colonies. However, the defence budget will rise slowly as funds are diverted to replacing elderly equipment that is an embarrassment to the armed forces. Two months ago an operation to rescue hostages held by Red Sea pirates was blighted by equipment breakdowns.
A non-commissioned officer told radio listeners yesterday that troops were spending €1,000 (£795) of their own money to buy clothing and other equipment for their tours of duty in Afghanistan. Money will also be saved by the axeing of plans to build a second carrier.
Charles Bremner in Paris
Source: http://www.timesonline.co.uk/tol/news/world/europe/article4160462.ece