2009-04-01
C.A.U. - Naples: MAKE NATO HISTORY!
On Saturday, April the 4th, a big demonstration against NATO will take place in Strasbourg in occasion of its 60th anniversary.
Even in Naples it will be necessary to go in the streets to underline our firm opposition against the imperialist and warmongering NATO policies and the policies of the Countries who take part to it; it's necessary to note the active role that Europe (and especially Italy) plays in policies of aggression and to unmask the image of pacifist power it tried to build in these years.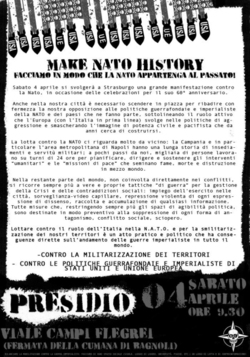 The struggle against NATO involves us in particular: Campania and the metropolitan area of Naples, have a long history of settlements and military submission, a few steps away from us, thousand of people work 24 hours to plan, direct and support "humanitarian interventions" and "peace missions" which sow hunger, death and destruction all over the world.
In the rest of the world that is not directly involved in conflicts, more and more"war tricks" are used in order to manage the crisis and social contradictions such as the use of the army in the cities, widespread video surveillance, violent repression of any expression of dissent, collection and storage of any information. These are all measures that increasingly restrict the spaces of political discussion that are previously addressed to suppress any form of antagonism, social conflict and strike.
THE STRUGGLE AGAINST THE ROLE OF ITALY IN NATO AND FOR THE DEMILITARIZATION OF OUR TERRITORIES IS A PRACTICAL AND POLITICAL ACT WHICH HASDIRECT CONSEQUENCES ON IMPERIALISTIC WARS IN THE WORLD.
AGAINST MILITARIZATION OF TERRITORIES
AGAINST WARMONGER AND IMPERIALIST POLICIES OF UNITED STATES AND EUROPEAN UNION
LET'S RELAUNCH THE MOBILIZATION AGAINST IMPERIALIST WARS: LET'S MAKE ON SOCIAL SPACE (SCHOOLS, WORK SITES, UNIVERSITY, SQUARES) A PLACE OF STRUGGLES AND OF ALTERNATIVE INFORMATION!
COLLETTIVO AUTORGANIZZATO UNIVERSITARIO - Naples (Italy)
HTTP://CAU.NOBLOGS.ORG/ - COLL.AUTORG.UNIVERSITARIO@GMAIL.COM