2008-07-06
Protests smothered as leaders arrive for G8 summit in Japan
George Bush and the Japanese prime minister have used the beginning of the G8 summit to insist they will both attend the Beijing Olympics opening ceremony. Hundreds of protesters have rallied under heavy police security in Japan as leaders from the top industrialised nations arrived for the annual talks. A morning protest ended peacefully, but one person was detailed during another rally held later.

The rallies followed a demonstration by about 2,500 yesterday that lead to a brief clash with police in which four people — including a television cameraman — were detained. The protesters are demanding the Group of Eight industrialised nations be dissolved and urgent measures to solve climate change and world hunger. "Down with imperialism," said one large red banner carried at the front of the morning march.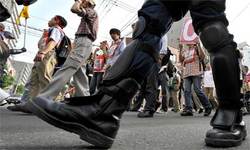 A member of a rightist group was detained as he rushed toward 200 leftists marching in the afternoon rally, which otherwise ended without incident.
The summit starts in Toyako, about 60 miles south of Sapporo, on Monday. The US president, George Bush, arrived in Toyako as the first march was being held. He said it would be an "affront to the Chinese people" if he did not attend the opening ceremony of the Beijing Olympics, and Japan's prime minister, Yasuo Fukuda, announced he would go as well.
Bush said he did not need to boycott the ceremony to show his stance on religious freedom and human rights in China.
"I've had to honour of dealing with two Chinese presidents, and every time that I have visited with them, I have talked about religious freedom and human rights," Bush said. "I don't need the Olympics to express my concerns."
"Not going to the opening ceremony for the games would be an affront to the Chinese people."
Fukuda, longtime proponent of stronger relations between Japan and China, had not previously said whether he would attend. He told reporters that he had been trying to resolve a scheduling conflict. "Now I've found out that it's possible, so I, too, officially announce I will attend the ceremony."
Some world leaders have said they may boycott the August 8 opening because of China's security crackdown in Tibet.
Protesters have not been able to get anywhere near the G8 summit venue, but have scheduled daily rallies in Sapporo, the largest city on the northern Japan island of Hokkaido. They are often outnumbered by riot police deployed to control them.
Japan has mobilised 20,000 police— primarily in and around the summit site but also in major cities including Tokyo — to guard against terrorist attacks. Coast guard vessels, military helicopters and fighter jets are being used.
Last year, tens of thousands of anti-globalisation protesters demonstrated when the summit was held in Germany and some threw Molotov cocktails at police, who used water cannon and horses to drive them back.
The G8 leaders represent the US, Japan, Russia, France, Britain, Canada, Italy and Germany. They are being joined by African leaders and the leaders of China, India and other rapidly growing economies, making this year's summit the biggest ever.
Source: http://www.guardian.co.uk/world/2008/jul/06/g8.summit