2008-07-06
Many arrests at G8-action Dordrecht (NL)
The action Enter Fortress Europe in the Town of Dordrecht (near Rotterdam in the Netherlands) was countered by the evil system with lots of repression. The activists had announced a kind of playful approach, in the form of a competition with flags and banners, ending at the infamous bajesboot (a very nasty floating prison for undocumented persons, of which there are several in the Netherlands).
The mayor (of the social democratic party PVDA) had communicated that he would allow the action. But in reality the opposite happened. Police was everywhere, partly disguised, and a big area around the boatjail had been declared forbidden territory and was shielded of by (riot) police.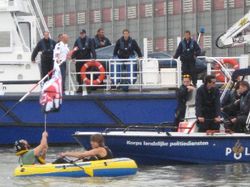 The police was very grumpy, presumably because the activists had also invented new rules for them ('team blue') in the game. Despite this show of force several teams could get near the jailboat, and the people inside reacted with noise and slogans. Also many anti G8-flags and banners were hung at al kinds of places and buildings in Dordrecht and hundreds of posters demanding freedom for refugees and closing of the jailboat were distributed. But many people were arrested, partly for trying to get on the jailboat, partly on ridiculous charges (graffiti, not showing ID, peeing in the bushes). Some people were released last night, but at this moment (Sunday 6, midday) at least 8 persons are still kept prisoner at the Dordrecht police station.
They refuse to give their names. One of the arrested was a cameraman who was released at night but had his tapes confiscated. The activists called to continue resistance against the jailboat and the system behind it, and plan to organise a new demonstration in august. (http://www.enterforteuropa.org)
Source: http://japan.indymedia.org/newswire/display/4582/index.php