2008-05-12
G8's Police Chief shares leadership skills
04 November 2005
"How do you manage to switch off and get a good night's sleep?" It's a question we've probably all wanted to ask those who are in power – from world leaders to Chief Executives of multi-national companies who make potentially life-changing decisions on a daily basis.
Today, this was one of the most revealing questions posed by business leaders from across Scotland as they met with Peter Wilson, the Fife Police Chief Constable best known for his pivotal role in co-ordinating police arrangements at this summer's G8 summit.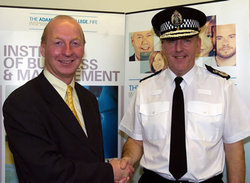 Jim McDevitt, Director of the ib+m, welcomes Peter Wilson.At a business lunch hosted by The Adam Smith College, Fife's, 'Institute of Business and Management' (ib+m) today in Kirkcaldy, Mr. Wilson shared his leadership experiences from throughout his Police career – including his experiences of leading over 10,000 police officers over the course of the G8 week.
Leadership and accountability were the key themes in Mr. Wilson's speech, where he emphasised the importance of communication and of really listening and understanding how people work and think. He said:
"Vision is the key to successful leadership and, indeed to successful partnerships. Understanding how people think and react, especially during busy or stressful times, is crucial to making the most of your resources and getting the very best out of your team."
He continued: "That applies in almost any business – whether it's planning the logistics of mobilising 10,000 police officers to cover a potential security threat, or merging two separate organisations as you have done here with what was formally known as 'Glenrothes College' and 'Fife College', now know as The Adam Smith College, Fife.
Regardless of the nature of the business or organisation, it is essential to look at the 'bigger picture' and to have the courage to maintain a sense of perspective.
That isn't always easy when you're in the middle of a situation, and we all know that hindsight has marvellous benefits, however it's important to have the foresight to make decisions in the heat of the moment as well as those which can be carefully planned."
When quizzed on how he coped with stress and the demands of such an all-encompassing Police role, Mr. Wilson warmly cited the support of his "longsuffering wife" and recognizing the importance of taking the time to reflect on the day, as key to helping him cope with the demands of his leadership role.
Mr Wilson's visit is one of a series of specialist business events hosted by the ib+m. The intimate and informal lunches are designed to fill a gap in the business market and allow business leaders from all walks of life to transfer their skills and experiences for the benefits of the audience. Previous guests have ranged from Bob Brannan, Group Managing Director of Whyte and Mckay Ltd, to Jim Leishman, General Manager of Dunfermline Football Club.
Jim McDevitt, Director of the ib+m, summed up the benefits of events such as this: "We are delighted to welcome Mr. Wilson to share his wealth of experience. In the business world we are all often guilty of keeping within our own 'comfort zone' and it is rare to get the opportunity to hear, in detail, exactly how other business leaders operate, particularly in different industries. Events such as today's Business Lunch allow us to reflect on our own leadership style and look at the ways we can improve and pick up new techniques that may not have been apparent before."
Source: www.adamsmithcollege.ac.uk