2011-03-24
Rights court clears Italy over death of G8 demonstrator
The European Court of Human Rights Thursday cleared Italy of any responsibility for the death of a demonstrator during the G8 summit in Genoa in 2001.
Carlo Giuliani, 23, was shot in the head during violent clashes between police and militant radicals on July 20, 2001. A vehicle drove over his body after the shooting.
The circumstances surrounding his death created an uproar and criticism of the government headed by Silvio Berlusconi.
The judges found that the policeman who fired the fatal shot had "acted in the honest belief that his own life and physical integrity and those of his colleagues were in danger from the attack to which they were being subjected".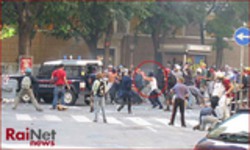 It said that in the circumstances "the use of a potentially lethal means of defence such as the firing of shots had been justified".
It found that "it was clear from the evidence at the court's disposal that the carabiniere (policeman) had given a warning while holding his weapon in a clearly visible manner, and that he had fired the shots only when the attack had not ceased".
Giuliani's family had turned to the Strasbourg court after no proceedings were taken against the police officer, arguing that the young man's right to life had been violated, he had been subject to inhuman treatment, and that there had been excessive use of force and bad organisation of the security forces.
In a preliminary judgement in 2009 the court criticised the Italian authorities for conducting an inadequate inquiry into the death while rejecting charges of excessive use of force and dysfunctions in the maintaining of law and order.
On Thursday they ruled by 13 votes to four there had been no violation of the right to life and by 10 votes to 7 rejected claims relating to the planning of the summit policing operation, the legal framework governing the use of force and the adequacy of the investigation.
Source: http://www.expatica.com/fr/news/french-news/rights-court-clears-italy-over-death-of-g8-demonstrator_138055.html