2009-08-25
Genoa killing 'was self-defence'
By Duncan Kennedy
Protests at the G8 summit in Genoa, Italy, in 2001
Dozens of officers have faced trial over their conduct during the protests
An Italian police officer who shot dead an anti-globalisation protester in 2001 acted in self-defence, the European Court of Human Rights has ruled.
Mario Placanica was one of thousands of security force members who fought with demonstrators at the G8 summit.
But the court ruled the Italian government failed to carry out a full investigation of the incident.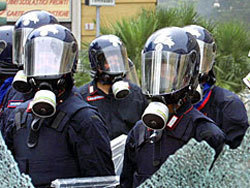 It awarded the family of Carlo Giuliani, who died, 40,000 euros (nearly $60,000; £35,000) in damages.
The G8 summit in Genoa in July 2001 was the scene of some of the most violent protests in recent years.
Thousands of police were involved in clashes with demonstrators from various anti-globalisation groups.
'No excessive force'
In the most serious incident, 23-year-old Carlo Giuliani was killed after being shot in the face by Mario Placanica, a police officer who was in a four-wheel drive.
Mr Giuliani was attempting to throw a fire extinguisher into the four-wheel drive at the time. The vehicle than reversed over his body.
The European Court of Human Rights, sitting in Strasbourg, has now ruled that the officer did not use excessive force.
But the court did order the family of the dead man to receive 40,000 euros in damages from the Italian state because it had failed to open an inquiry into the planning and management of the policing operation at the summit.
Mr Placanica was investigated for alleged murder but was later cleared.
Dozens of other officers on duty have also faced a variety of trials accused of brutality against the demonstrators during and after the street protests.
A number of low-ranking officers were found guilty, but are unlikely to face jail because of a combination of an amnesty that has been put in place and Italy's statute of limitations.
Source: http://news.bbc.co.uk/2/hi/europe/8221227.stm