2008-11-14
Italy court clears top police of Genoa G8 violence
GENOA, Italy (Reuters) - An Italian court on Thursday found 13 police officers guilty of beating protesters at the G8 summit in Genoa in 2001, but acquitted 16 others, including the most senior police officials.
The convicted policemen were sentenced to between one month and four years in prison. But a lengthy appeals process and a statute of limitations which annuls sentences after a given period of time mean that none are actually likely to spend any time in prison.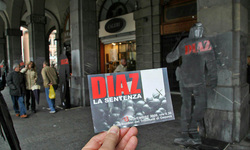 One protester was killed during the three-day Group of Eight summit in Genoa where clashes were among the most violent at any meeting of the club of rich countries. The talks are regularly dogged by protests by anti-globalization groups and left-wing demonstrators.
The subsequent investigation focused on a charge into the Diaz high school which had been turned into the headquarters of protesters staging an alternative "summit."
Italian media focused on the acquittal of the three most senior officers, who now have top jobs in Italy's police force, one in the anti-terrorism unit and one in the secret services.
Onlookers in the courtroom shouted "Shame!," when the 16 verdicts of acquittal were read out.
The court sentenced the defendants to a total of 35 years and 7 months in prison, compared with prosecutors' request of more than 109 years.
"Today is one of the saddest days in the post-war history of the republic," said Vittorio Agnoletto, one of the organizers of the no-global movement at the summit and now a member of the European Parliament for the Communist Refoundation party.
"From now on police chiefs who allow their men to smash the the heads and the backs of people sleeping peacefully can be sure of impunity and the guarantee of a fine career."
Interior Ministry Undersecretary Alfredo Mantovano, of the right-wing National Alliance party, said the sentence showed Italy's police force is "healthy and deserves everybody's gratitude."
Eighty-two protesters, among them Italian, British, Polish and Irish, were injured during the raid on the school on the night of July 21-22, 2001, and 63 had to be treated in hospital.
Police said at the time the protesters had attacked security forces shortly before the raid, and that weapons had been found at the school. But the investigation showed that the protesters, many of whom were sleeping when the police broke into the school, were defenseless and had not reacted violently.
(Editing by Richard Balmforth)
Source: http://www.reuters.com/article/worldNews/idUSTRE4AC8ZA20081113