2008-11-13
Italian court acquits top police officials over violence at 2001 G8
Genoa, Italy - An Italian court handed down sentences Thursday in Genoa against 13 police officers accused of violence against protestors at the 2001 Group of Eight summit in the city but acquitted several high-ranking officers in the case.
Shouts of 'shame, shame!' from many of those in the courtroom's public gallery accompanied the late evening reading of the verdicts and sentences, which came after some 11 hours of deliberations by judges.
Among those attending the evening court session were people who were beaten when police raided a school that was being used as a headquarters by anti-globalization groups during the G8.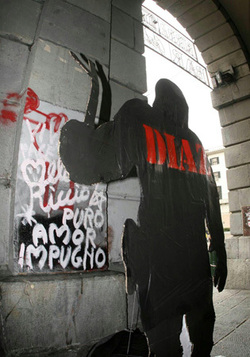 Prosecutors had asked for a combined total of more than 100 years of jail for the 29 defendants, many of whom had been indicted on charges of assault and causing grievous bodily harm related to the raid at the Diaz school.
Judges acquitted 16 of the defendants, including three who currently serve as top police and security officials in Italy.
The remaining 13 defendants received jail sentences amounting to a combined total of 35 years and fines related to the repayment of damages caused to protestors.
The 2001 G8 summit in the north-western Italian port city triggered some of the most violent protests that have often accompanied meetings of the so-called 'club of rich nations.' One protestor was killed during the street clashes around the three-day meeting.
Scores of demonstrators, some of whom had travelled from other countries, were injured during the raid at the school on the night of July 21-22, 2001. More than 60 people were treated in hospital.
Authorities at the time said they believed the school was being used to store weapons used by a violent fringe of protestors who engaged in street battles with police.
Following the raid, police produced several poles and two Molotov cocktail petrol bombs, which they said had been seized from the school. A subsequent investigation proved the allegations false, along with claims that protestors who were sleeping at the time of the raid reacted violently against police.
In a separate trial in July, a Genoa court handed out jail sentences for brutality to 15 police and prison officials blamed for excessive violence against summit protestors.
Those charges mostly stemmed from the beatings suffered by scores of anti-globalization protesters while they were detained in a barracks.
Source: http://www.monstersandcritics.com