2008-10-20
Some court dates in Genoa
27.10
Preliminary hearing against former Genova police chief Colucci for false testimony in the Diaz trial and former police chief DeGennaro for pushing him to do so. Main evidence: the telephone of Mortola (former Genova digos chief and defendant in Diaz trial) was tapped as part of the investigation on the molotov bottles disappearance. In one call Colucci told him he had adjusted his testimony as "the chief" wanted.
The preliminary hearings will decide whether a trial will be opened against them.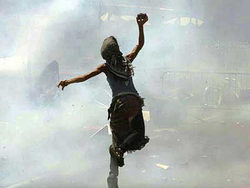 28.10
Next hearing in the trial against 4 cops for the illegal arrests in piazza Manin. Among the witnesses scheduled, one of the 2 persons from Zaragoza arrested (part of the same group also arrested in Diaz school the following day).
7.11
Diaz verdict: Last friday the defence finished their discussions. The judge fixed the 30th of october for the prosecutors' reply, the 6th of november for the defence's and the 7th as date of the verdict.
10.12
Perugini + 4: Last thursday in the trial against Perugini + 4 the prosecutor and the plaintiff lawyers (ours) discussed their conclusions. Perugini (former Genova digos number 2 and also sentenced 2 years 4 months in Bolzaneto trial) and 4 other digos cops are accused of the illegal arrest of 5 demonstrators and 1 photografer (who had his camera destroyed after taking a picture of the scene, like other 2 photografers). Videos showed totally unmotivated beatings and arrests. In a famous video Perugini can be seen kicking in the face a boy (he was under 18) who can then be seen with a horribly swollen eye. The trial is not about his injuries because he accepted an extra-judicial compensation for that, but he is a plaintiff for the illegal arrest.
The prosecutor asked for 2 years 3 months for Perugini and Del Giacco, 1,8 for Raschellà and Mantovani, and 2,1 for Pinzone, also accused of threatening with a gun one of the arrested persons on the way to Bolzaneto.
The defence will discuss on december 10th, and the verdict could be that same day or shortly after.
17.12
Next hearing in the trial against Alban, accused of attacking police. we proved with videos the police report was false and we are confident he will be acquitted. As for the cops who arrested him (and were in Diaz school the following day) it will be late to open a case against them for illegal arrest, but we hope they will be investigated for the false testimony in this trial.
Bolzaneto: The verdict reasons were to be made public on october 14th, but the judges took extra 45 days. Any further action is postponed.
Canterini: At the beginning of december there will be next hearing of the trial against Canterini, commander of anti-riot police at Diaz school and also a defendant in that trial, for pepper-spraying 3 persons the previous day. 2 of them were lawyers and the scene was filmed.
More cases are going on. The appeal court recently cancelled a sentence against a demonstrator. 2 persons from Puglia have a trial that shouldn't reach the end because of the statute of limitation. An american arrested on 20.7.2001 just had a trial postponed because of technicalities raised by our lawyers. And more…
Source: email