2008-07-18
G8 Diaz brutality sentences sought
Prosecutors seek 5- year prison terms for high- ranking police
(ANSA) – Genoa, July 17 – Prosecutors on Thursday asked a Genoa court for total sentences of over 100 years in a trial for police brutality at the G8 summit in 2001.
Charges against 28 police officers who took part in a violent raid at a school used as sleeping quarters by anti-globalisation protestors include grievous bodily harm, planting evidence and wrongful arrest.
Three people were left comatose and 63 had to be taken to hospital after being beaten by police, who burst into the Diaz school in riot gear and arrested 93 protesters, including British, French, German and other non-Italian nationals.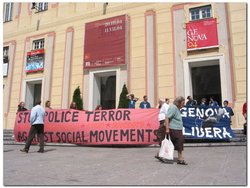 Prosecutors are seeking sentences starting from three months' imprisonment, with longer terms for higher ranking officials.
The heaviest sentence – five years – is being sought for deputy superintendent Pietro Troiani, who is accused of planting two Molotov cocktails at the school.
For the two highest-ranking officers, Francesco Gratteri and Giovanni Luperi, magistrates asked for four years and six months for charges of falsification and illegal arrest.
At the time, Gratteri was the director of the Central Operations Service, while Luperi was deputy head of Special Operations.
''They weren't waiting behind their desks but took part in the operation alongside the troops with helmets and truncheons,'' said public prosecutor Enrico Zucca.
Magistrates requested the same sentence for seven other high-ranking officials.
An acquittal was requested for the 29th man involved in the trial, police commissioner Alfredo Fabbrocini, who prosecutors said was innocent of charges.
The police maintain that protesters in the school were harbouring dangerous weapons and resisting arrest and that they were forced to defend themselves.
On Thursday, an English freelance journalist beaten by police in front of the school said he was ''not happy'' with the prosecutors' requests.
Mark Covell was unconscious for 14 hours after the raid, which left him with a vein twisted around his spine, a perforated lung, broken fingers, ten smashed teeth and eight broken ribs.
''The sentences requested would have been much heavier in England,'' he commented.
THREE TRIALS FROM G8 VIOLENCE.
More than 300,000 demonstrators converged on Genoa for the G8 summit in July 2001.
During two days of mayhem, one protestor was shot dead while attacking a Carabinieri policeman, shops and businesses were ransacked and hundreds of people injured in clashes between police and demonstrators.
The Diaz proceedings are one of three major trials to emerge from violence at the event.
Earlier this week a long-awaited verdict on brutality at the Bolzaneto detention centre drew protests from leftwing MPs and victims after 30 of 45 state officials were acquitted.
None of the 15 people convicted and sentenced to up to five years in prison will serve time because of the statute of limitations. In total, 252 demonstrators had said they were spat at, verbally and physically humiliated or threatened with rape while being held at the centre.
In December last year, another court convicted 24 Italian anti-global protestors for their involvement in rioting at the summit.
This was the only trial against demonstrators in connection with the event. Although police arrested dozens of people at the time, all other proceedings collapsed for lack of evidence of were dismissed by judges during preliminary hearings.
Source: http://ansa.it/site/notizie/awnplus/english/news/2008-07-17_117234507.html