2008-01-25
Italy, Cosenza. Sud Ribelle trial
Sud Ribelle trial: calling for 50 jail years
50 penalty years, are inflicted by the public prosecutor for the 13 charged people of Sud Ribelle trial who are accused for various reasons of subversive association.
We've arrived to the end of the trial which is taking place in Cosenza (Italy) and sees 13 persons as involved ones, accused for various reasons of subversive association, in order to avoid the exercise of the government functions of Italy during the global forum in Neaples and the G8 in July in 2001 and to create a wider association composed by thousands people, intended to subvert violently the constituted economic order of the state. No bad at all as frame!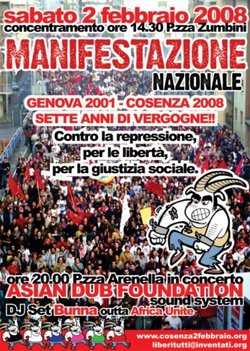 Since its beginning this trial will be remembered as tragically ridiculous, grotesque, as a typical Italian comedy indeed.
It doesn't laugh only during the public prosecutor Fiordalisi closing speech. He's wishful to take for himself some glory times. It's just a shame he's darkened by controversy about Prodi.
The inflicted sentences are about from 2 and half years and 6 years. For every charged person security measures also are been demanded for every charged person, to be translated into probation for a 1 to 3 year(s) time.
There are also farces during the trial procedure. In 2002 some petty police civil servants travel through all the prosecutor's offices of italy around with the hope to find an available one which could put on trial the activists network that organized the against-summit of Naples in 2001. During this travel every office threw the door in their face except for just one which belonged to the Cosenza Prosecutor Office and public prosecutor Fiordalisi as well, whose eternal memory is linked to 4 inquiries of the Italian magistrature council about him and to other particular inquiries. He was to close the inquiry of Jolly Rosso ship which was part of COMERIO project, about which Ilaria Alpi also was following the track.
15th November 2002: tens of activists homes in Naples, Cosenza, Taranto, Vibo Valentia, Diamante, Montefiascone (italy) are at night devastated by searches of policemen. The result is as follows: 20 arrested people, other notified ones for house arrests. Then computers, books, phone enviromental and telematic tappings belonging to 43 people ended to be involved in this case.
Once again we have to say "no remorse anymore": as for Genua as for Naples it couldn't be any remorse at all for whoever tried to oppose him/herself to the world economic power. Therefore, for demonstrating to the 13 charged ones that they are not alone, we will be on the streets in Cosenza on 2th February.
History belongs to us!
SupportoLegale
Source: SupportoLegale