2007-12-17
Statement about on the trials against 25 activists in Genoa/Italy
Concerning the trial against 25 activists and the in total 225 years of imprisonment demanded by the state prosecutors, we, victims of the raids on the Diaz school, declare:
In July 2001, we were in Genoa to take to the streets, together with hundreds of thousand others, against the policies of the G8 states. On the night from July 21st to 22nd, we were staying at the Diaz school. There, we got were brutally beaten up by the police, some of us even sustaining life-threatening injuries.
For days after the attack, they continued to abuse us.
For years, the authorities investigated against us. The charges made against us back then were harsher than those currently made against the 25 accused activists. Without any discernable facts or concrete suspicions, we were accused of forming a criminal association, of bodily harm, and even of violating the firearms law on control of war weaponry. This was not all: the authorities accused us of "destruction and looting", an element of criminal offence originating from Italy's fascist era. The designated penalty ranges from 8 to 15 years imprisonment.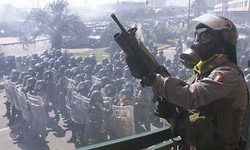 Today, nothing remains of these investigations against us: All to the contrary, it became evident that the police had systematically manipulated material for evidence and had simulated criminal acts, in order to hide their own criminal behaviour. Just to mention one example: following the orders of police officers in command, Molotov cocktails were placed in the Diaz school after it had been raided.
Police commanders had been accused of bodily harm, false statements and false accusations. Their trials, however, have beenwere delayed, so as to pass the shorter statutory period of limitation. It has now become clear that no police officer will ever have to go to jail for the orgies of police violence we suffered that night.
Now, the state prosecution is demandings that that 25 activists will be prosecuted sentenced for "destruction and looting". They are threatened by a charge that comprises, in total, 225 years of imprisonment. Amongst others, They are accused, for example, of defending a mass demonstration against the non-authoriszed attack of a Carabinieri (Italian police force) contingent.
We believe these accusations are politically motivated attempts to criminalisze a broad social movement. Protest and resistance should not be reduced to "breaching the peace" or "disrupting the public order". Bringing forward these accusations is a state strategy toall about finding scapegoats in order to justify the brutal behaviour of the police in 2001 and the following repression.
We are not going to accept this!
We are not going to let the state split divide us into "good" and "bad" protestors. The 25 accused and all those who are affected by the police and judicial repression have our full support and solidarity!
What happened in Genoa was a brutal, lethal, and disregardful misconducted police operation.
Amnesty International described what happened in Genoa in 2001 as "the biggest suspension of democratic rights in a western country since the end of the Second World War". We read the accusation of "destruction and looting" and the demanded penalty as a logical continuation of this repression.
As different as we are, and as divergent as our political positions may be, we still have one thing in common: in Genoa we have carried our protest against the policies of G8 to the streets.
We have fought a struggle against a capitalist logic of exploitation that subsumes all life spheres, against a division of the world into poor and rich, into winners and losers, against racist and ever more repressive migration policies, for a world without domination and exploitation.
During the days of Genoa hundreds of thousands of people have made the hope of a different world more real: "We are history".
We will not let governments and police re-write our history! We demand the acquittal of all accused activists!
Signed:
Victims of the raids on the Diaz school, December 2007
Source: email