2007-11-17
Protest in Genoa to demand inquest on clashes at 2001 G8 summit
Genoa, Italy - Italian authorities deployed Saturday over 800 police in the north-western port city of Genoa ahead of a planned march by leftists and anti-globalization activists demanding a parliamentary inquiry on the violent clashes that marred the 2001 Group of Eight summit held in the city.
Organizers have pledged that the protest, scheduled for the afternoon and in which several thousand people are expected participate, will be peaceful, in contrast to the 2001 clashes when police shot dead a demonstrator and hundreds were injured during almost three days of rioting.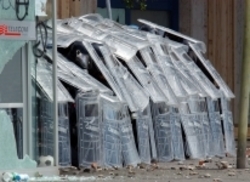 'I will monitor events from city hall, but I invite citizens not to be afraid and to traders to keep their stores open,' Genoa's Mayor Marta Vincenzi said.
However, some officials say they are concerned by reports that die-hard 'ultras' football fans - many of them with far right-wing sympathies - may join the march to protest the shooting of a fan by a policeman last Sunday, an incident that sparked rioting in several Italian cities and prompted authorities to cancel all domestic football matches scheduled this weekend.
Some 25 people, all of them demonstrators have been indicted on public violence charges in connection with the July 19-21, 2001 riots when police clashed with demonstrators trying to enter the Genoa city centre where G8 leaders from the United States, Germany, Japan, France, Italy, Canada, Britain and Russia were meeting and which had been declared off-limits.
Organizers of Saturday's demonstration say the indictments are one-sided and are demanding that a parliamentary inquiry be held to probe the role of police in the violence, including what they say were scores of unprovoked attacks on anti-globalization activists.
They are also demanding that the Carabinieri policeman who shot dead the 23-year-old demonstrator Carlo Giuliani on July 20, 2001 be brought to trial.
Giuliani, who since his death has become an icon for many in the anti-globalization movement, was wearing a black ski mask and was holding a fire extinguisher which he was apparently about to hurl at a police car when he was shot dead.
A judge at a preliminary inquest ruled that the bullet fired by policeman Mario Placanica's pistol deflected off a stone before hitting Giuliani and hence that there was no need for a trial because the policeman did not intend to shoot the demonstrator.
Source: dpa