2007-06-23
New Genoa G8 video - The Diaz raid, July 2001
This revised edition video shows the opening moments of the Diaz raid at the end of the Genoa G8 in July of 2001. Over 300 police took part in the raid, expecting to find violent protesters.
What they found were 3 journalists and 90 environmentalists, social workers and pacifists. In what can only be described as a bloody massacre, 62 people were hospitalized. Some with life threatening injuries.
Video The Diaz raid- Genoa G8 summit, July 2001 (hi-res- 75mb) wmv – video/x-ms-wmv 74M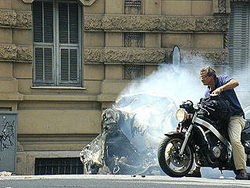 Everyone was falsely arrested on the basis of planted evidence once it was realised by the police that they had bludgeoned 93 innocent people.
Many of the injured were dragged from the hospital beds(to the protests by the doctors) and taken to Bolzaneto Detention Centre where they were further abused and tortured by prison police.
In September of 2003, 76 police were indicted. 29 commanding officers and men from the Diaz in one trial and 47 prison officers in another. Both trials commenced in October 2005 and are still ongoing.
The Diaz and Bolzaneto trials are regarded as the largest of their type anywhere in the world and especially for Italy. Never before have so many police been charged by prosecutors.
the verdict is expected in the spring of 2007 at the same time of a parliamentary inquiry into the politicians' role in to the Diaz raid.
Gianfranco Fini, the most dangerous and powerful fascist in Europe was the security minister at the Genoa G8. His party, Allianze Nationale have spent much money and thrown many challenges in front of the Diaz plaintiffs.
It is hoped by the plaintiffs that Fini be put on trial for human rights abuses.
Hi-Res version available for download
right click- save link as…
[http://www.indymedia.org.uk/en/2007/06/374246.html]