2002-10-10
PRAG: PROBLEME MIT DER GRENZE/ PROBLEMS WITH THE BORDER
Solidaritätsaktionen an den Grenzen erwünscht, zeitgleich zu den Anti-NATO Demonstrationen in Prag diesen November./Border solidarity actions wanted, to coincide with Anti-NATO demos in Prague this November.

OrganisatorInnen der bevorstehenden Demonstrationen gegen die NATO arbeiten gerade daran, was sich unglücklicherweise zu einem bedeutenden Problem für DemonstrantInnen entwickeln könnte -- über die Grenze zu gelangen. Die OrganisatorInnen erwarten, dass es einige Leute nicht möglich sein wird, die tschechische Grenze zu überqueren. Um diese Probleme zu beheben, werden im Moment Netzwerke aufgebaut zwischen ihnen und AktivistInnen aus Städten nahe der tschechischen Grenze, um Unterstützung bereitzustellen für Leute, die an der Grenze zurückgeschickt werden und um Solidaritätsproteste in diesen Städten zu organisieren, damit DemonstrantInnen, welchen der Zutritt verweigert wurde, trotzdem die Möglichkeit haben, ihren kollektiven Widerstand gegen die NATO zum Ausdruck zu bringen. Sie haben bereits Gruppen in verschiedenen Städten kontaktiert, aber es gibt bisher noch keine Kontakte zu Leuten in Österreich.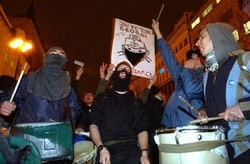 Falls du in Wien oder in irgendeiner österreichischen Stadt in der Nähe der Grenze lebst und mithelfen willst, oder Leute kennst, die daran Interesse haben, solltest du die OrganisatorInnen über http://www.antinato.cz/ kontaktieren.
Infos und Kontakt zum Grenzpunkt Dresden: http://www.free.de/terminal/borderpoint
english:
Organizers of the upcoming demonstrations against NATO, are currently working on what, unfortunately, may prove to be a significant problem for demonstrators--geting accross the border. Organizers anticipate that a few people won't be able to get across the Czech border. To remedy these problems they are currently networking with activists in cities near the Czech border to provide assistance to folks who have been turned back from the border and to organize solidarity protests in these cities, so demonstrators who are refused entry will still be able to voice their collective resistance to NATO. They have already contacted groups in several cities, but haven't yet contacted folks in Austria. If you happen live in Vienna, or in any Austrian city near the border and would like to help out, you should contact the organizers at http://www.antinato.cz/.
Info and contact to borderpoint dresden: http://www.free.de/terminal/borderpoint
[indymedia.de, von übersetzung von http://praha.indymedia.org, 10.10.2002]